Almost 2 years ago I launched our first appeal for Syringe Driver Bags for Macmillan Cancer Care in Antrim Hospital.
As the name suggests, the bags carry Syringe Drivers, the vehicle for administering pain or sickness medication.  The patient receives the meds via a tube, which means they have to carry the Syringe Drivers around with them all the time.  Sometimes they have one syringe driver, sometimes 2.
Providing bright and colourful bags instead of the standard issue grey ones is a small way of bringing a little cheeriness to the patient, especially when they get to choose one they like!
For our first appeal we had a brilliant response from generous sewists across Northern Ireland.  So much so, we were able to pass on some bags to other palliative care units.
These bags can't be reused, and the supply of bags from the first appeal has been exhausted.
Macmillan have asked us for more, so we are launching our 2nd Syringe Driver Bag Appeal!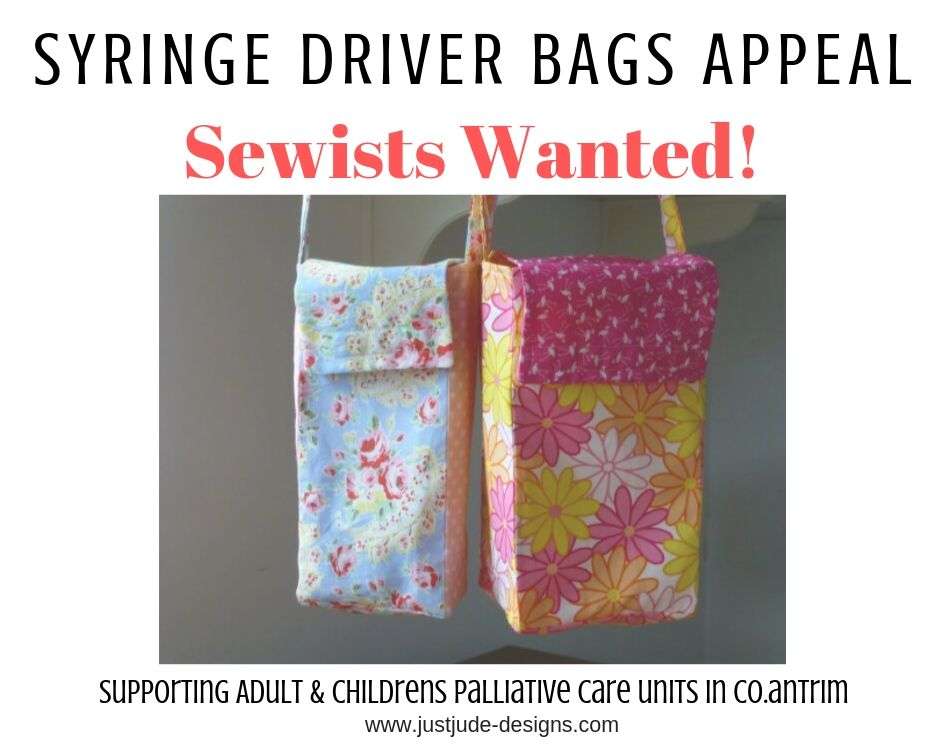 If you have some sewing machine experience and cotton fabric, would you consider making one or two bags for those receiving palliative care or cancer treatment?  You can find the tutorial here.
Previously we have only made for adult males and females, but now we also have a request from The Children's Hospice, N.I., so we can receive bags in child-friendly fabrics too!
I launched the 2nd appeal on Facebook 10 days ago and we've already received 25 bags!  THANK YOU!
I've always known how generous our sewing community is! Please, please help us to make many more bags!  The bags can be posted or delivered to me at home.  Email me at justjudedesigns@hotmail.co.uk for my address.
And if you live locally to Belfast, keep your eyes and ears open for an announcement about a free Syringe Driver Bag Workshop at our studio in Conway Mill!
Thank you!