Already we are coming to the end of our first block of 2019 classes.  This week we will wrap up our Necessary Clutch wallets and New Year projects.
I can't wait to show you all the finished clutches!
And I'm a little bit excited to show you our (optional) class project for the Feb-April block.
In our next block of classes I will be showing 3 different weaving techniques, 2 of which use the Wefty Weaving Needle.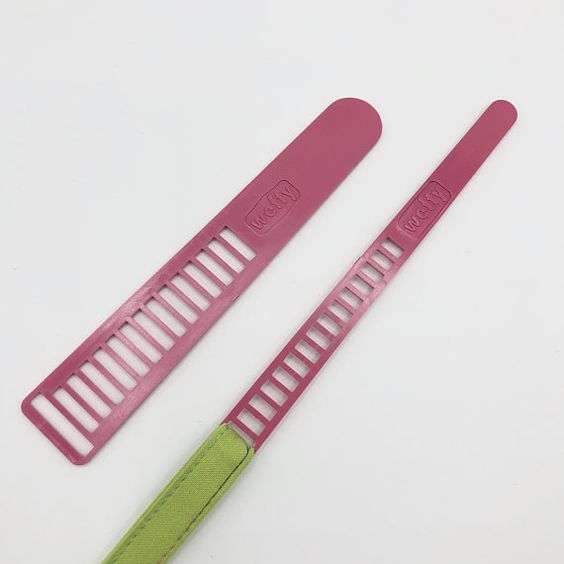 A Wefty Needle comes in 2 sizes, 1″ and 0.5″ and enables weaving both simple and complex designs with little/no fabric waste.
Once you have a deliciously woven panel you can turn it into a pretty basket, a tactile cushion, a useful notebook cover, anything you like!
I'll have notes available on how to make my 3 examples, but you don't have to stick to these projects.  Just check out my Weaving Pinterest Board for lots more mind blowing inspiration!
Linen Basket Weave Cushion
This is a beginner friendly project, keeping the strips wider and easy to weave into a traditional basket weave pattern.
We don't use the Wefty Needle on this project, a large safety pin will suffice, though there will be a little fabric waste at the end of each woven strip.
And if you haven't already them sussed, how about trying some buttonholes and self covered buttons as your cushion closure?
Houndstooth Journal Cover
These 0.5″ strips are woven with the Wefty Needle into a houndstooth pattern.
Again we are using a traditional basket weave here, but clever placement of strips produces the secondary pattern.
I turned my woven panel into a journal cover (my notebook cover pattern is available here), but you could easily use this as a decorative panel in a bag or add some borders for a textured placemat or cushion.
Triaxial Woven Basket
Triaxial means 3 angles.  Unlike a basket weave (with only vertically and horizontally woven strips) triaxial weaving involves strips woven at vertical and 2 thirty degree angles.
For my cute basket I've used the 1″ Wefty Needle.  Triaxial weaving is more complex than basket weaving designs, but once you get your head around it, there are many more amazing designs which can be produced from the 3 angles.
So if you fancy a spot of weaving over the next 7 weeks, or just want to carve out some therapeutic sewing time to work on other projects, why not come join the fun and book into one of our 6 weekly classes.
And it's now easier than ever to register for a class, using our new online registration system.
Happy weaving!