Welcome everyone!  And happy April to you all!
We have had a sunny start to the new month – doesn't the sunshine make everything seem much better!
Well a new month means a new 'Meet the Maker' interview, and it is my delight to introduce you to a very special lady!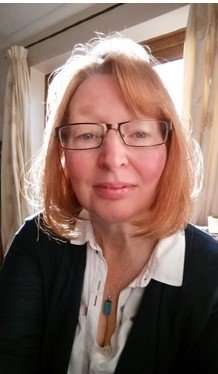 This is Trudi, aka Quilting Prolifically.  Trudi is a fellow Brit Bee member and an astoundingly talented long arm quilter.  She is known for her 'feather' work, which are all 'free hand' quilted.  Enjoy!
Introduction: Who are you? Where do you live? Where do you blog?
Hi, I'm Trudi, I live in Lincolnshire and quilt in a very posh shed at the bottom of my garden.  I can be found at my very neglected blog Quilting Prolifically and more visibly on Intagram as @trudi­­_wood
2. What is your craft/s? When did you start? Who/what inspired you to get started?
I am a professional Longarm quilter, designer and patchwork and quilting teacher.   I learned to sew when I was about six from my mum, piecing scraps from her basket into clothes for my dolls.  My mum taught me to make my own clothes, and so for many years I was a dress maker, making my own clothes and bridesmaids dresses and ball gowns for others.  I was introduced to quilting by a colleague when I was working in Belgium.  They gave me a catalogue for an American quilting shop, and my eyes were opened to so many more possibilities.   This was back in the day when machine quilting was regarded as a dirty word and cheating, so I hand quilted all my quilts because that's what everyone did.  There came a point when there were more tops than I could ever dream of hand quilting in a traditional way, so I taught myself to free motion quilt on my very old domestic machine that didn't even drop the feed dogs.  In 2007 I bought a table top frame and soon learnt my Bernina was not up to the job so added a Juki 98P and learned how to quilt on a frame.  In 2014 My Innova Long arm arrived and I love it!  Last year I took the leap and left my day job and now quilt full time.  I've also been teaching Patchwork and quilting, free motion quilting, and designing quilt patterns for magazine commissions.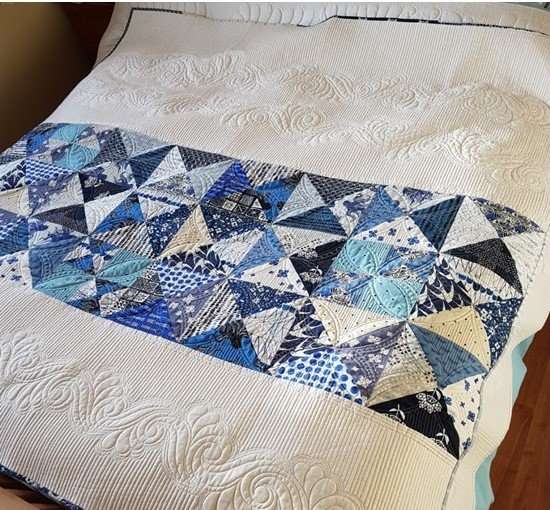 3. What do you most enjoy about your craft? Where do you find your inspiration? Who inspires you?
I love the creativity, I have always created, loved colour, and sewing,  so to be able to inspire others, help people see more than they thought about for quilting and to work on so many different quilts is a real joy.    Inspiration can strike from almost anywhere,  from the fabric itself, the design of the quilt or even the purpose of the quilt.  I love my customers to be involved in the process as much as possible, as they will usually have a good strong idea and starting point .    I have my feet firmly set in the traditional field from the word go, inspired by UK quilters like Barbara Chainey  and Amy Emms, US quilters like Daine Gaudinski and Karen McTavish.   I do love to mix in the traditional with a more modern feel to the quilting.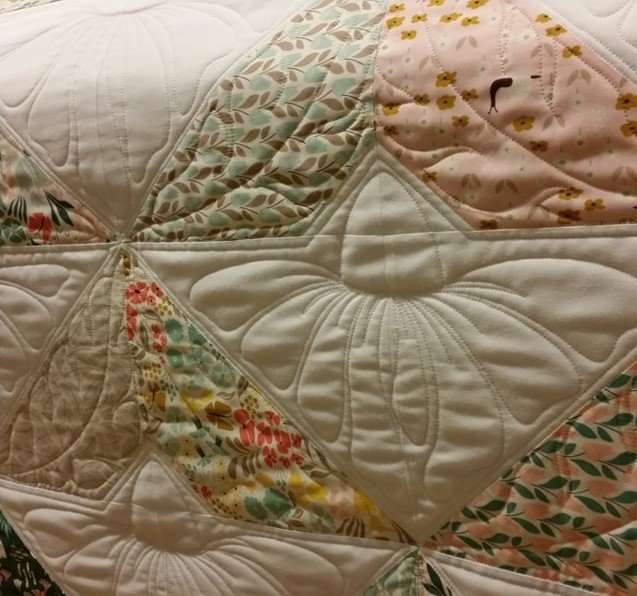 4. Why did you start a blog? What do enjoy most about blogging? Do you see a future in blogging with the rise of other social mediums?
I started reading blogs back in 2008/09,  and just figured, you know what, I could do that!  I set up a blog and posted wondering who would read it, and people did.  I was quite shocked.  My blog has been neglected over the last year or two, as the time required to dedicate to it became more than I could muster, and Instagram seemed so much easier with the demise of Flickr also.  Its quick, its a snapshot of time.  Its a really great community.  Yes I'd love to get back into some regular blogging, because I still think there is a place for it.  Sometimes there is so much more to that snap in time than a few words can express, quilts have stories, and its always worth recording those stories and sharing with other.  You never know who you might inspire.
5. What are your creative goals for 2017? Are there new things you would like to try; projects you would like to get finished; competitions to enter etc.?
I strive to grow creatively each year, and this year is no different, my words for this year are to Shine and Adventure, so to use those as inspiration for the work I do makes a great focus.  I really want to get back to the traditional patterns and see what I could bring to them with a modern slant using today's quilting techniques.   I have so many ideas in my head, I need to get them into my notebook and pick just one for the Festival of Quilts.
6. If a fairy godmother could grant you one creative wish, what would it be?
Oh that would be easy, more time!  Time to create, time to play, time to just see where ideas take me.  To be able to do all that and still work a full week with time for a weekend would be just grand.
Isn't Trudi's quilting amazing!  Hard not to be inspired under her tutelage.
I hope you have enjoyed reading about this month's Maker!