We are now in week 2 of our Instagram Designers Collaboration with Sotak Handmade, Charm About You, Stuart Hillard Sews, Penny Dog & myself.
Last week we made Svetlana's Lola Pouches (you can see mine here).
This week we are making Lucy's Melody Mini Quilt/Cushion.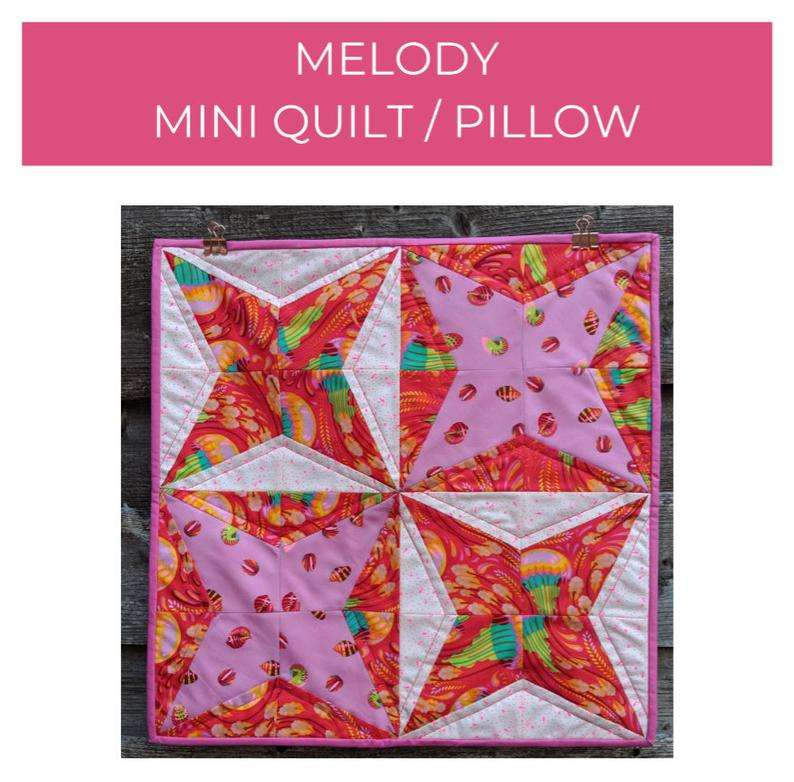 This is a foundation paper pieced pattern which makes either a 20″ cushion or wallhanging.  I love foundation paper piecing for the accuracy and pointy points you can achieve!
I decided to make another pillow for my sofa and of course, I chose Tilda Fabrics!!
I wanted to create a secondary pattern that became the centre feature of the cushion so I vered slightly from Lucy's original colour placement.
The cushion is actually made in 4 quadrants – you could keep the colourway in each quadrant the same colour/fabrics (like Lucy's original pattern).  Alternatively, by changing the fabric in one point in each quadrant you get a new secondary pattern when each of the those points face towards the centre.
When it came to the quilting, I decided to quilt in the ditches first, to bed down a few of those lumpier seams.
I knew the Kona Snow would look too stark by itself so a little running stitch brings interest to these plainer sections and a little more quilted texture.
My points were pretty well matched in the middle, despite the bulk of the intersecting seam, but it just didn't feel right not to highlight the centre with a vintage button!
The back of the cushion has my 'go to' feature zip, and a stripey Tilda binding frames the finished cushion.
I'm really pleased with how this cushion has turned out and love how it looks with my other handmade cushions.
Fabrics used:
Kona Snow
Tilda Old Rose (Lucy Teal Wisp)*
Tilda Classic Basics (Paint Dot Pink)*
Tilda Bon Voyage (Lilit Red)*
Tilda Tea Towel Basics (Apple Cake Stripe Red)*
*available to purchase here
Melody Mini Quilt/Cushion pattern available here
And don't forget to check out the other Melody Minis on Instagram by searching #melodyminiquilt or #justjudecollaborates
Happy sewing!