I'm excited to reveal my 2nd Instagram Collaboration, starting tomorrow!
You may remember last July I teamed up with 4 other pattern designers to spend a month making and showcasing a pattern from each designer!
It was a lot of fun and we had lots of engagement over on Instagram, so I definitely wanted to do it again!




Let me introduce you to our new designers:

Week 1: Sonia Spence @fabricandflowers


Sonia lives in England and has enjoyed crafting from a young age, often playing on her mum's old Pfaff sewing machine. As an adult she learned to crochet and then quilting in 2012. She has made many patchwork projects and her patterns have been published in several quilting and crafting publications.
Sonia is passionate about quilting and inspired by colours and shapes. You find lots of helpful tips and tutorials, as well as her pattern shop here.




For our pattern collaboration Sonia has chosen her Automatica Quilt pattern (currently discounted for our collaboration during March). I'm so looking forward to making the striking Automatica block and seeing the other designers' interpretations!


Week 2: Katy Cameron @the_littlest_thistle


Katy lives in Scotland and is a fellow Brit Bee member. She describes herself as a computer geek by day, and sewing ninja by night!! Katy has crafted most of her life. The Littlest Thistle originally started out selling one of a kind, collectible mohair teddy bears but one day, after searching online for a way to dress the bears, she stumbled across Sew Mama Sew website during giveaway day and was hooked on all things sewing again!
Currently Katy quilts, make bags, clothes and the occasional bear. She is a regular contributor to several quilting publications and has taught both evening and weekend classes within the UK and Europe in both bag and quilt making. In addition to selling her patterns Katy also sells parts for vintage sewing machines, specialising in Singer Featherweights. You can find her website and pattern shop here.


Katy has chosen her Retreat Pattern Pack for our collaboration. This is a pattern pack of 6 projects that will get you sewing retreat ready! Katy has spoilt us for choice, it's going to be fun seeing what we all choose to make!


Week 3: Me!! @justjudebelfast




Well I don't need any introduction!

So which pattern of mine will the other designers be making??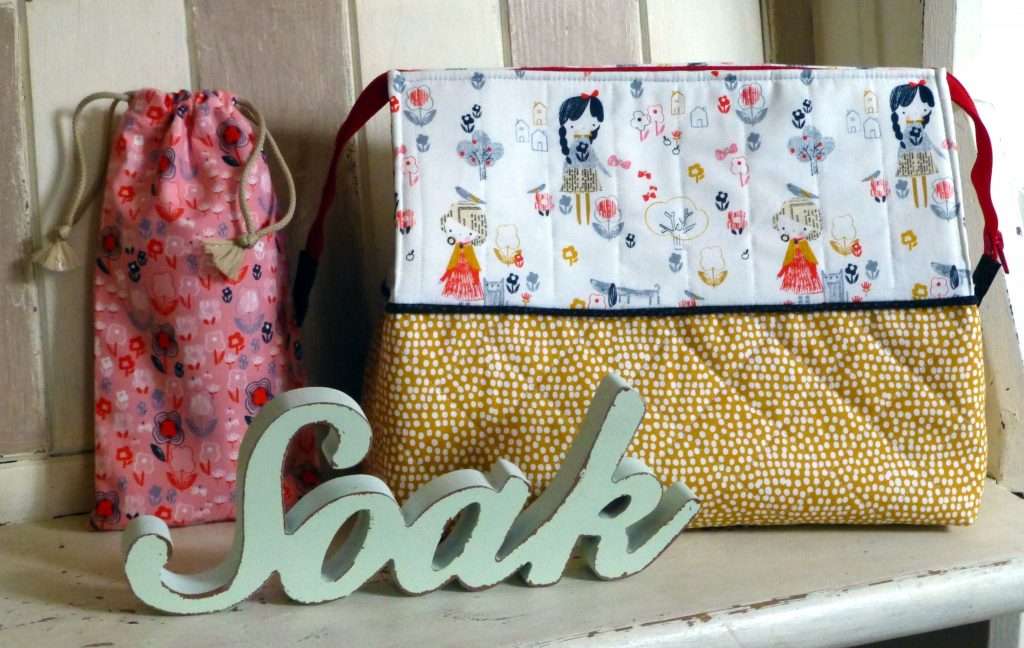 This is my Toiletry Travel Bag, originally designed for Quilt Now Magazine a few years back!
I'm looking forward to seeing any variations the others add to the bag, a handle maybe??


Week 4: Jo Avery @joaverystitch


Jo also lives in Scotland. Her lifetime of playing with fabric and yarn has culminated in a career as a teacher, entrepreneur and designer. Jo's natural affinity with colour and detail informs all her quilts as well as a love of intricate techniques such as needle-turn applique and embroidery. Straddling both modern and traditional quilting, she enjoys inspiring others through her workshops and retreats.
Jo organises the annual Stitch Gathering retreat and designs quilts and embroideries for a wide range of quilting publications and books. Her first solo book 'New Patchwork and Quilting Basics' was recently published by Stash Books. Jo is also 1/3rd of The Thread House, a UK based quilting retreat and pattern venture.




For our collaboration Jo has chosen her recently released Bird Bundle 2, a pack of 4 applique garden birds. There are many applications for these cute birds and my mind is already whirring on the variety of projects I could apply these cute motifs to!

And that's our collaboration team for March '21!


I hope you will be able to follow us on Instagram and Facebook to see our progress (I will also be posting here at the end of each week).

Happy sewing!