Hi everyone!
In class this week, our '5 minute lesson' was all about HSTs (Half Square Triangles), QSTs (Quarter Square Triangles) and HRTs (no not that type of HRT! Half Rectangle Triangles!).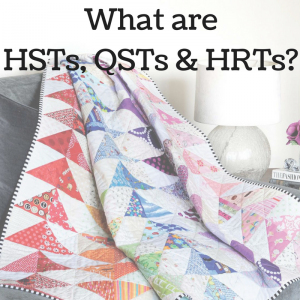 These versatile and clever units form the many building blocks of quilt and quilt block design!
They are component parts that follow the same construction principles but with their many design possibilities, they just keep on giving!
Sewing with triangles can be tricky, especially as those naughty bias edges can flex and stretch!  But despite the word 'triangle' being mentioned in the names of all of these techniques, at no point are individual triangles sewn together! How cool is that!
Let's start with the humble Half Square Triangle.
Half Square Triangles (HSTs):
Method 1 (yields 2 identical hsts):
Start off by putting 2 squares right sides together.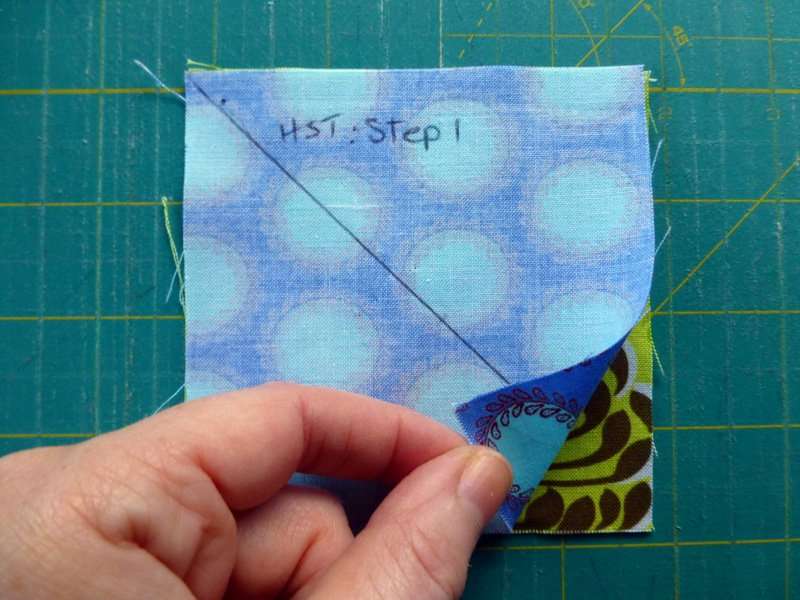 Draw a pencil line corner to corner on the wrong side of one of the squares and sew 1/4″ either side of the line.
Cut along the line to create 2 identical half square triangle units.  Press the seams open (always press bias seams open where possible).
How easy was that!
Method 2 (yields 4 identical hsts):
Place 2 squares right sides together and sew 1/4″ around all four sides.
Cut in half from corner to corner, and then into quarters through the opposite corners.
As before, press the seams open.
And now that you have cracked hsts, the design possibilities are endless!  Here are a couple of my own HST quilts, but for lots more variations, including sizing charts, check out my HST Pinterest Board!
Quarter Square Triangles (QSTs):
This time you need 2 lots of half square triangles.  You can work with 2 fabrics, or like I'm doing here, 4 different fabrics.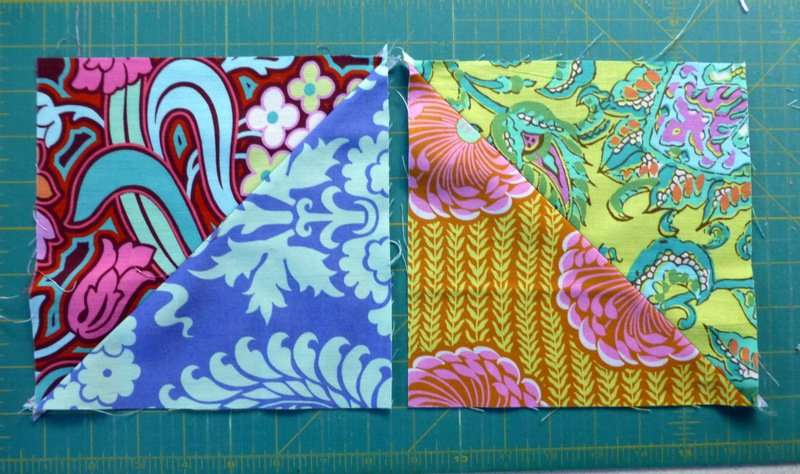 Now take 1 hst from each pair and place them right sides together so that their seams are lying on top of each other.
Draw a line corner to corner perpendicular to the existing seam. Sew 1/4″ either side of the line.
Cut along the line to separate and press the seams open.  Now you have 2 identical QST blocks, with each of the 4 fabrics in each unit.
See if you can spot the QSTs in my friend Susan's gorgeous 'Blue Moon' quilt.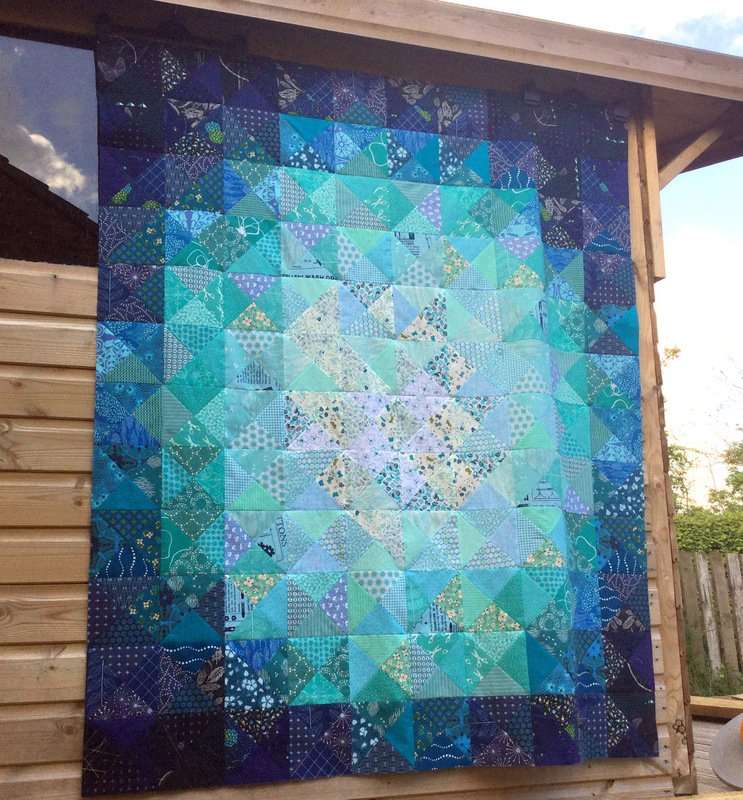 I have a little QST quilt in the works, but I can only show you this sneaky peak  for now ……..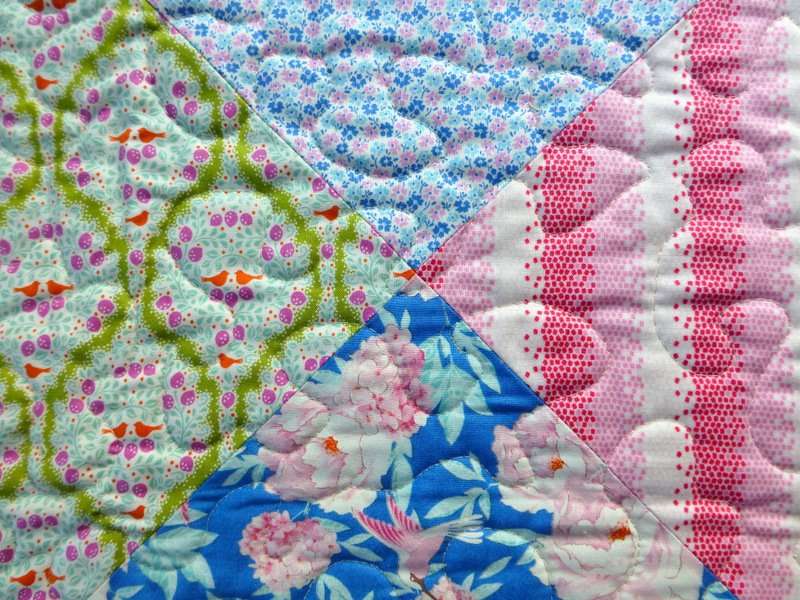 ….. but check out my QST Pinterest board for lots more clever ideas & sizing charts!
Half Rectangle Triangles (HRTs):
As with HSTs and QSTs we will be sewing either side of a diagonal pencil line, but this time, because we are working with rectangles, the layering is different.
Placing the fabrics right sides together, make sure the pencil line runs to the opposite corners of the other rectangle.
When these have been sewn, separated and pressed, you will need to trim off the excess fabric at the corners before using them.
And if you change the direction of the pencil line in other units, you can achieve lots of different effects.  Here's a little Twizzler block I made for the class lesson.
I haven't made an HRT quilt yet, but it is most definitely on my bucket list!
But please check out my HRT Pinterest board for inspiration overload! Oh my! I want to make them all!
If you've always wanted to design your own quilts but have been unsure of where to start, then why not give HSTs, QSTs or HRTs a try!
I hope you feel inspired!  Thank you for tuning in!
Happy sewing!