Hi everyone!
It's getting pretty hot around here!
As I enjoy the wide open windows and the washing on the line, I'm also progressing well with packing up ready for moving house at the end of this month.  A small challenge when there's 15 years worth of 'stuff' to thin out ready for our down-size!
I have also packed up my sewing room, but not before I got a class sample finished for classes in the new term.
I'm a great admirer of Anna's fabulous bag designs and patterns, and her Maker's Tote is a particular favourite of mine.  I've had it bookmarked for a while, but am only now getting around to making it!
I thought this would be a good bag pattern to teach in class because of the variety of bag construction elements and skills involved.
But of course I couldn't just stick to the pattern, could I!
I love using denim for bags, it makes them more durable and useable in my view.  And besides, I already had 2 'uneven brick' panels sewn together for another project long forgotten!  They were the perfect size, so I got to *quilting them, first in the ditches, and then some feature quilting using Aurifil 12wt wool thread.
*the original pattern uses a foam interfacing like Bosal to give structure and reinforcement to the bag.  I wasn't able to get any in time, so substituted with a layer of wadding and heavy weight sew-in vilene spray basted together.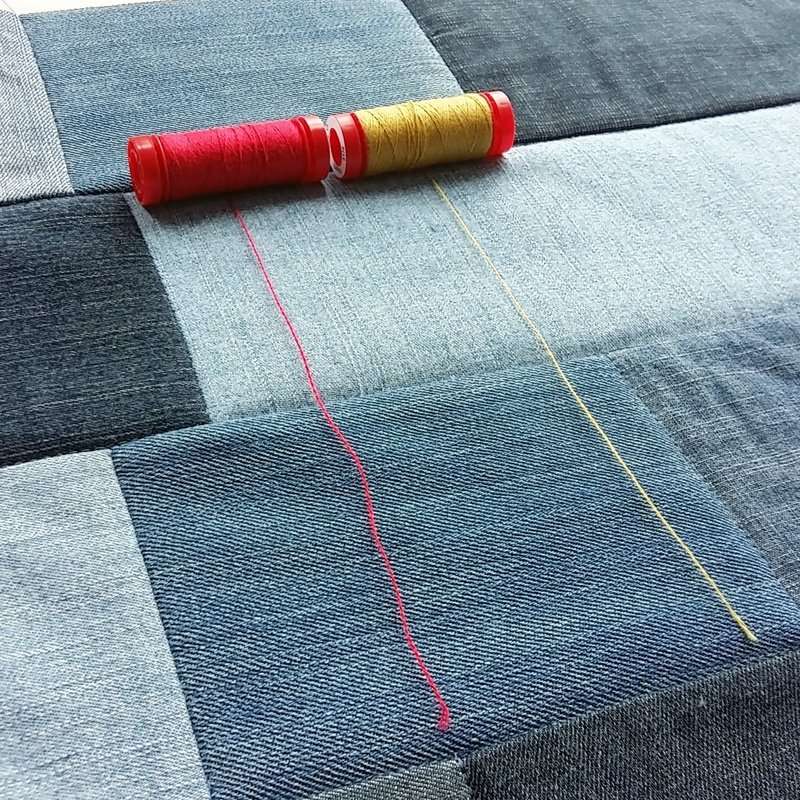 The front and back of my bag are slightly different.  I didn't think the prescribed front pocket would work on my version of this bag, but I did include the zippered back pocket.
One of the joys of working with recycled denim is thinking of ways to use the loops, tabs and unusual features attached to a pair of jeans.
I decided my Maker's Tote could be used as my everyday bag, not just a class sample, so I incorporated another one of my favourite textiles, vintage chintz linen.
A few vintage style Lecien prints coordinated beautifully for the internal pockets and facings.
The handles are made from a re-purposed denim belt, reinforced with webbing and lined with more of the chintz linen.
The belt was a little on the wide side, so by cinching in the edges along the top section, they are now the perfect fit for my hands and have lovely structure too!
The bag is finished off with self-made bias binding, another great skill to have under your belt.  If you follow me on Instagram, you will know that the first lot of bias binding I made is different to the one on the finished bag!
I decided I didn't like choice no.1 (after I had attached it!). In my opinion the chintz linen binding works much better, even though it was a little trickier to attach.
So there we have my version of Noodlehead's Maker's Tote!  A fabulously roomy bag, gorgeous shape, and versatile elements.
And I'll leave you with an 'out take' of the 'helper' on my photo-shoot!
Linking up to Nicky & Leanne's Scraptastic Tuesday!
Happy Sewing!