As a Quilting tutor I'm often asked what is the best way to mark the right side of a project ready for quilting.
I've learned that when sewists hit on a reliable product they like, they tend to stick to it!  Afterall, when so much money, time and effort is put into quilt making, having a reliable tool to avoid a devastating 'marking accident' is crucial!
But recently I've become more and more concerned about a pen that is widely sold in Quilting and Fabric shops as a non-permanent fabric marker.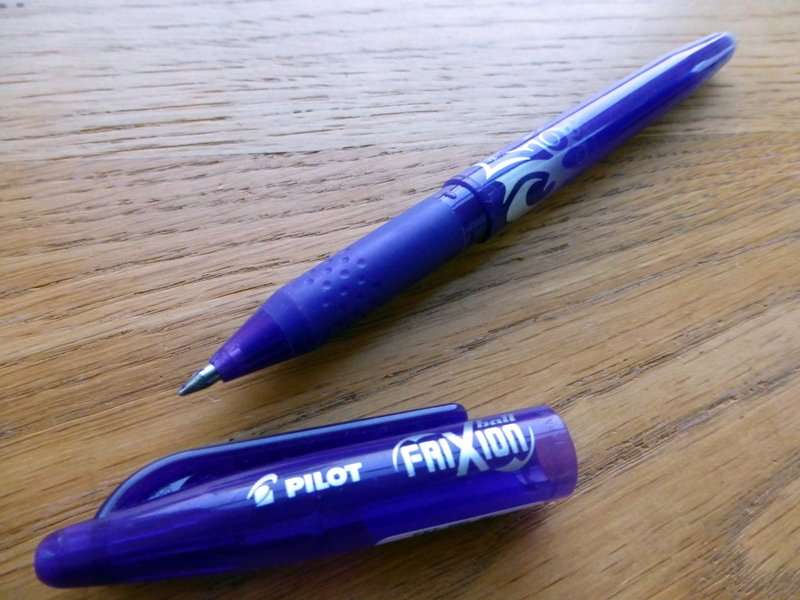 The Frixion Pilot Pen is like a gel pen, which disappears when heat is applied to it, either from ironing or through friction from a 'rubbing out' action using the eraser at the end of the pen.  It has a fine tip and comes in a range of strong colours, which shows up on almost all fabrics.
HOWEVER what is most concerning is this pen will cause bleaching or 'ghosting' when ironed off darker fabrics (see the lines above right).  Also, under cold temperatures the ink will reappear!
This is because the Frixion pen is not designed for use on fabric (and most definitely not the RIGHT SIDE of fabric!).  One of the main features highlighted on the Product website is that you can rub or iron off a secret message, put the paper into the freezer, and voila, the ink magically returns.
In my view, these features make this an unsuitable tool for quilters, who are often marking on the right sides of fabric.
Thankfully, there are other products out there which are much safer to use.
I have 2 'go to' pens I like to use:
The Chalk Pen: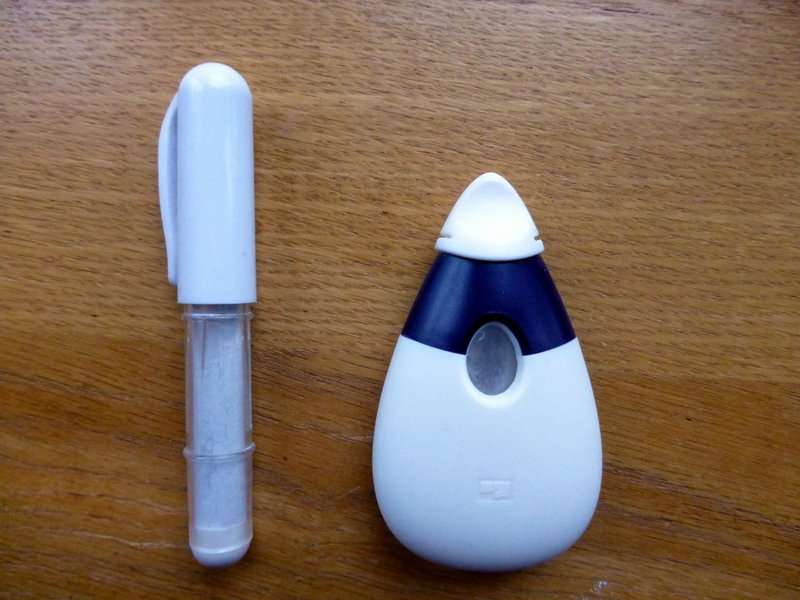 The white Clover chalk pen (left) or Prym Chalk Pen (right) are great for marking the right side of fabric e.g. quilting lines.  The loose chalk comes through a little wheel creating fine, accurate lines.  And you can buy refills too!
However I never use coloured chalks because they contain dye and can stain light fabrics.
A soft white chalk pencil is a good substitute as long as it is kept sharpened to produce fine lines.
Water Erasable Pen:
My 2nd 'go to' pen is a water erasable pen which I mostly use for drawing more intricate designs like lettering or when I need to create measurement markings for things like applique projects.
The water erasable pen markings come out in the wash, or with a damp cloth or water spritzer. Sometimes if I dry the marked section too quickly, or don't use enough water, a 2nd application of water is needed to remove all the blue marks.
However you must remember not to iron your work before you remove the blue marks otherwise they may 'fix' to your fabric.
**********************
The other 2 main products on the market for quilters are air erasable pens and Hera Markers.
I haven't heard of a good review for Air Erasable Pens, mainly because the ink disappears too quickly, much more quickly than the 12-24 hours stated.
I have a Hera Marker which I have used to mark light fabrics. It is a molded piece of plastic which creates indentations when pressed onto the fabric. I recommend only using the curved section of the hera marker in case you 'scratch' the surface of the fabric. The indentations are removed through ironing or washing.
The Hera Marker is fine for larger sections of lines, but not so good for intricate designs.
********************
This is by no means an exhaustive list of fabric marking tools, and the recommendations for all of them are to try them out on a spare piece of fabric first.
But here is my summary of the pros and cons of those I have covered in this post.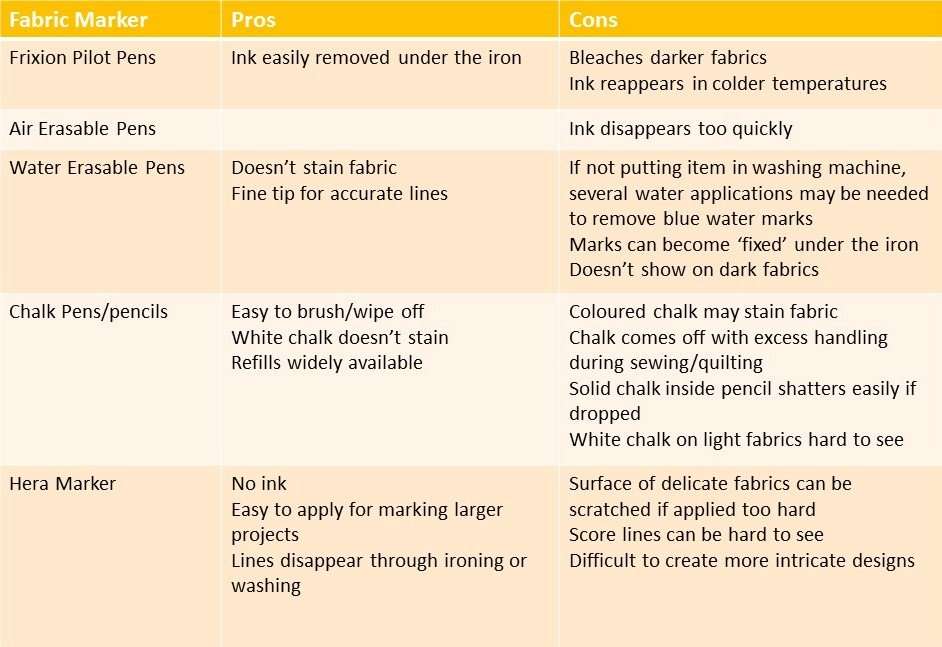 I have been asking folks in the Sewing Surgery Facebook Group what their experiences have been on the Frixion Pilot pen in particular.
If you haven't already commented, I would love to hear your feedback on what marking tools you use and the positive and negative experiences you have had.
But whatever fabric marking tool you choose to use, mark safely!