At the end of February we will be having a half term break from classes.
Which means, a new block of classes kicks off in March up until Easter.
And a new block of classes means a new (optional) class project.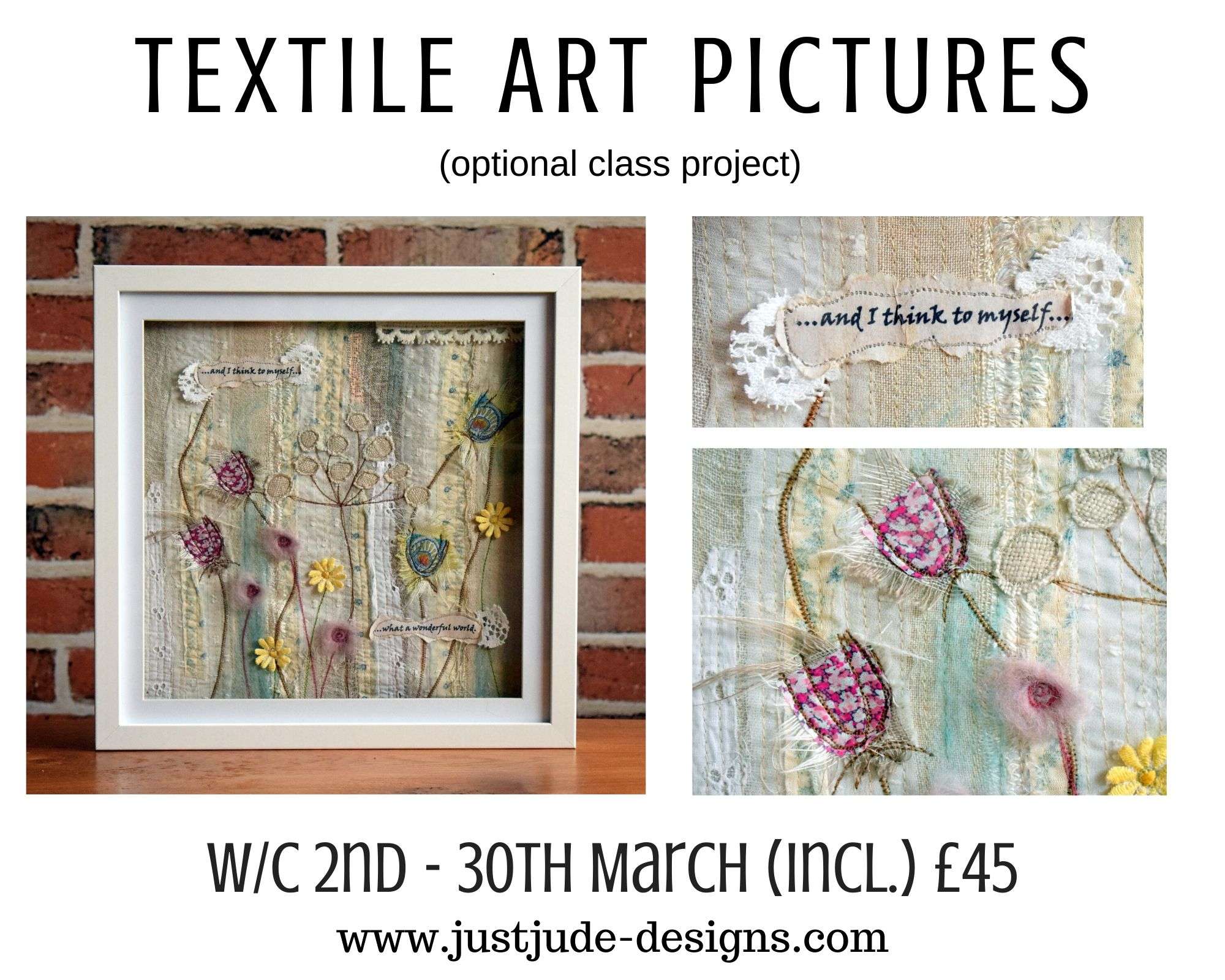 We're going to dip our creative toes into some textile art this term, having unadulterated play-time with mixed textiles and medium.
I've 2 class samples to showcase several fun techniques.
Picture 1:
This is a 12″ picture in a box frame.
The background can be made with strips of torn linens, cottons, lace, voile, broderie anglaise and anything else light weight which is textured or can fray well.  I even included fine strands of felting wool!
We then use a water-soluble fabric to matchstick quilt the background before adding our composition on top.
I've chosen some flowers and seed heads, but you could quite easily go with a bird, meadow or beach theme.  Let your creativity run wild!
In the making of my picture I used the following techniques:
couching
free motion embroidery
paper aging
embellishing
I also included some cut out some embroidered yellow flowers from an old duvet cover!!
What a lot of fun!  You'll never look at textured fabrics, bedding and apparel in the same way again!
Picture 2:
I love word art!  There's nothing quite like the perfectly spoken word at exactly the right time to create profound impact and legacy.
If you enjoy poetry and literature you can have so much fun with your composition here.  Or how about the name and meaning of a loved one?  What a special gift.
The background is made in the same way as picture 1.  I've also included free motion sketching and printed text here.  This time though, I've embellished my picture with text printed onto fabric.  You need an inket jet printer and freezer paper do to this.
I'm so looking forward to seeing what artistic impressions are released when this class starts in March!
If you would like to join us for some textile creativity, check out all the classes and vacancies here.
Happy sewing!