Welcome to the final part of my Log Cabin Family of Blocks series.
Part 1 (Log Cabin) available here
Part 2 (Courthouse Steps) available here
Part 3 (Pineapple) available here
(All sample blocks were made using Handmade fabrics by Makower)
Now in my introduction to this series, I described this part as the Mystery section!
That's because this post is all about Partial Seams!
Just like the other Log Cabin Family members, in these examples fabric is pieced around a central shape.
1 Log Cabin
You may have noticed that the 'logs' in the Log Cabin block above are equal length in each round, unlike the Log Cabin Block from Part 1.
This is made possible by starting each round with a partial seam (denoted here with the number 0.5 instead of 1!).
The first 'log' being attached is stitched only half way along the seam.  It is then pressed out allowing the 2nd 'log' to be fully attached.  This one is then pressed out before attaching log 3 and the same for log 4.  Now you can bring the unsewn section of log 1 right sides together to log 4 and finish sewing the starting (partial) seam.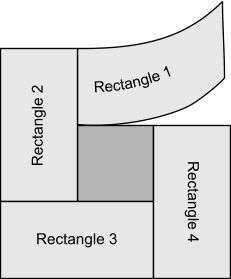 I love how clever this technique is.  Without prior knowledge of partial seams, it would be difficult to work out how to construct this block.  Therein lies the mystery!!
2. Rail Fence
In this example, the 'rail fence' sections are pieced separately, before being attached to the centre square.
As before, the first seam will be a partial seam.
(Tutorial for a similar block available here)
3. Hope of Hartford
As for the Rail Fence block above, the corner sections of this block are made separately, before being pieced around the centre square.
(Tutorial available here)
4 Octagon
And just like a traditional Log Cabin block, you don't have to start with a square!
The 'logs' in each round of this Octagon block start with a partial seam, just like the partial seams version of the Log Cabin block .
Here is an example of a quilt I made using partial seams in the blocks:
And to make the partial seams blocks a little easier to spot, here is a deconstructed block from the quilt:
Now that you know how easy partial seams are, I hope you won't be put off trying a whole other range of blocks to enhance your quilts.
And check out my Pinterest Board for lots more fabulous examples of Partial Seams!
***************************************************
Thank you for tuning in to my Log Cabin Family of Blocks series.
I hope you have enjoyed it as much as I have!
Happy sewing!