It's all about the festive makes at the moment at Just Jude Designs!
So I thought I'd bring you a fun and easy little Christmas tutorial to get you in the festive spirit!
For 1 Tree You will need:
2 x (5" wide x 6" tall) pieces of background fabric
2 x (5" wide x 6" tall) pieces of heavy weight sew-in vilene
2 x (4.5" wide x 5.5" tall) thin card
Green, red and gold/yellow threads
Thread to match background fabric
1" x 2" wide ribbon (trunk)
4" length of narrow ribbon
Hand sewing needle
Non-permanent fabric marker
Method:
1 Cut the card into an isosceles triangle - draw a line from each bottom corner to the middle of the top edge. Cut away the sides.
2 Place the vilene behind the background fabric (I use a little basting spray here).  On the vilene, I centred and drew around the card triangle as a guideline for stitching.
3 From the right side, draw 1" lines across the background fabric using a non-permanent fabric pen.
4 Select a decorative stitch on your machine and sew along one of the lines.
5 Continue sewing decorative stitches along all the lines (for the lines near the top of the tree you only need to sew 0.5" wider than the triangle marking).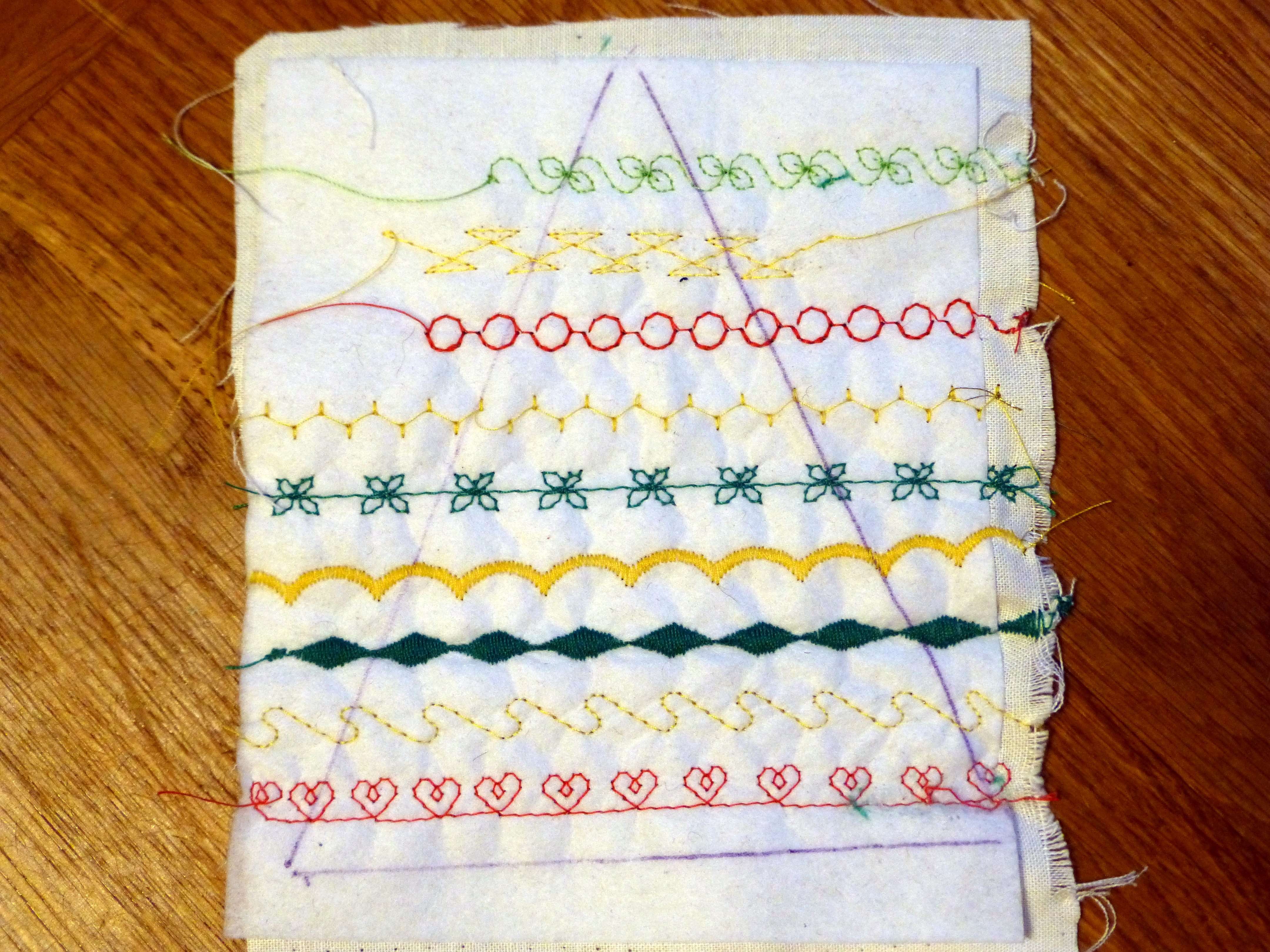 6 Now sew decorative stitches in lines between the ones already sewn. Repeat steps 2-6 for the other background piece.
7 Cut out a generous 1/4" wider than the triangle.
8 Pin the triangle card to the wrong side of one of the pieces. Using the English Paper Piecing (EPP) method, wrap the edges around the card and hand tack in place.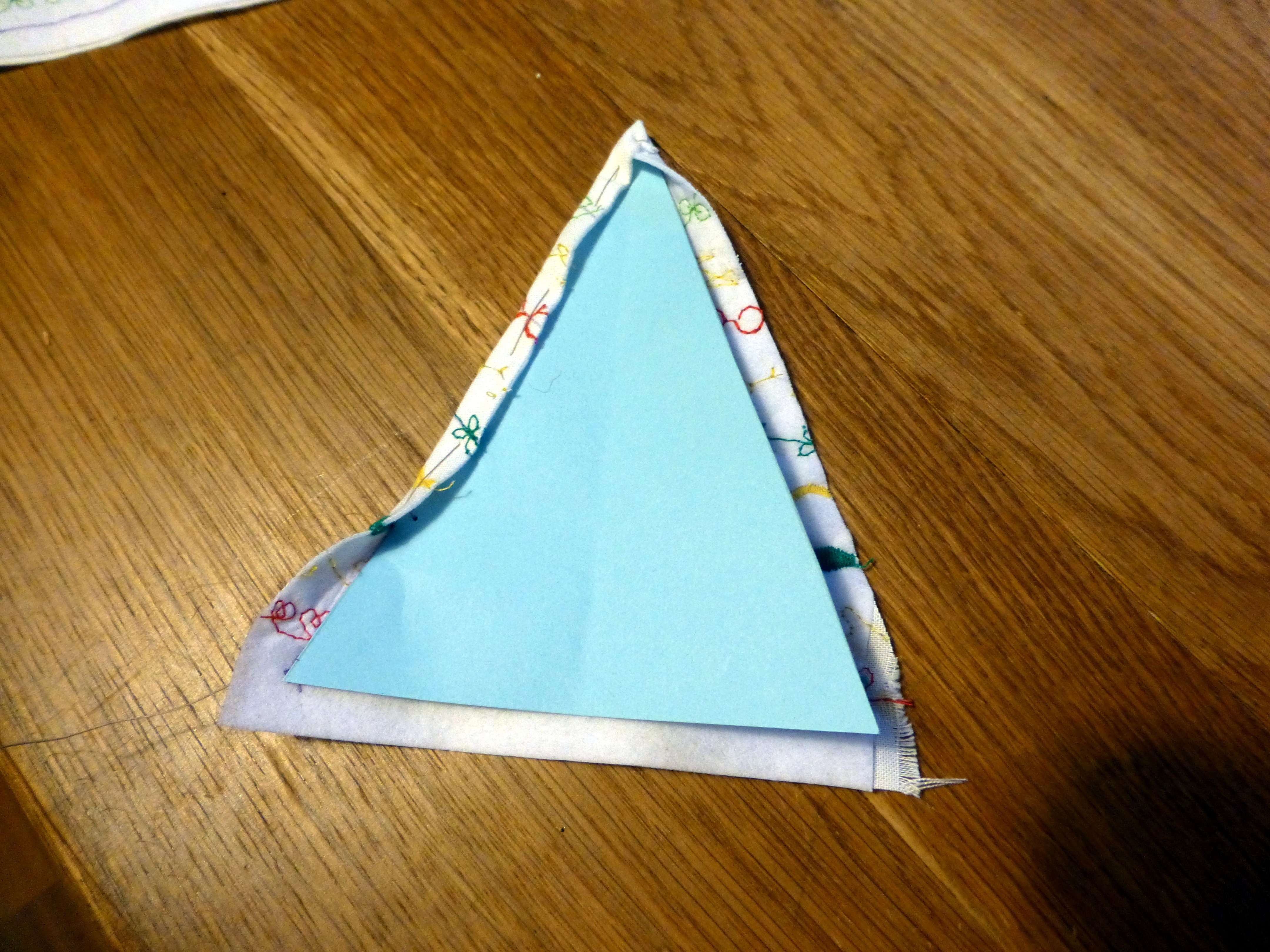 9 From the right side, machine stitch around the edges 1/8" from the edge. At the bottom edge of the tree, catch the folded 'trunk' ribbon as you sew past. Remove the tacking stitches & leave in the card.
10 Hand tack a ribbon loop to the top of the tree (inside edge).
11 EPP & top stitch the remaining card triangle to the other stitched piece in the same way as before. Remove the tacking stitches & leave in the card.
12 Bring the 2 trees wrong sides together and whip stitch (by hand) the 2 trees together.
Hang up and admire!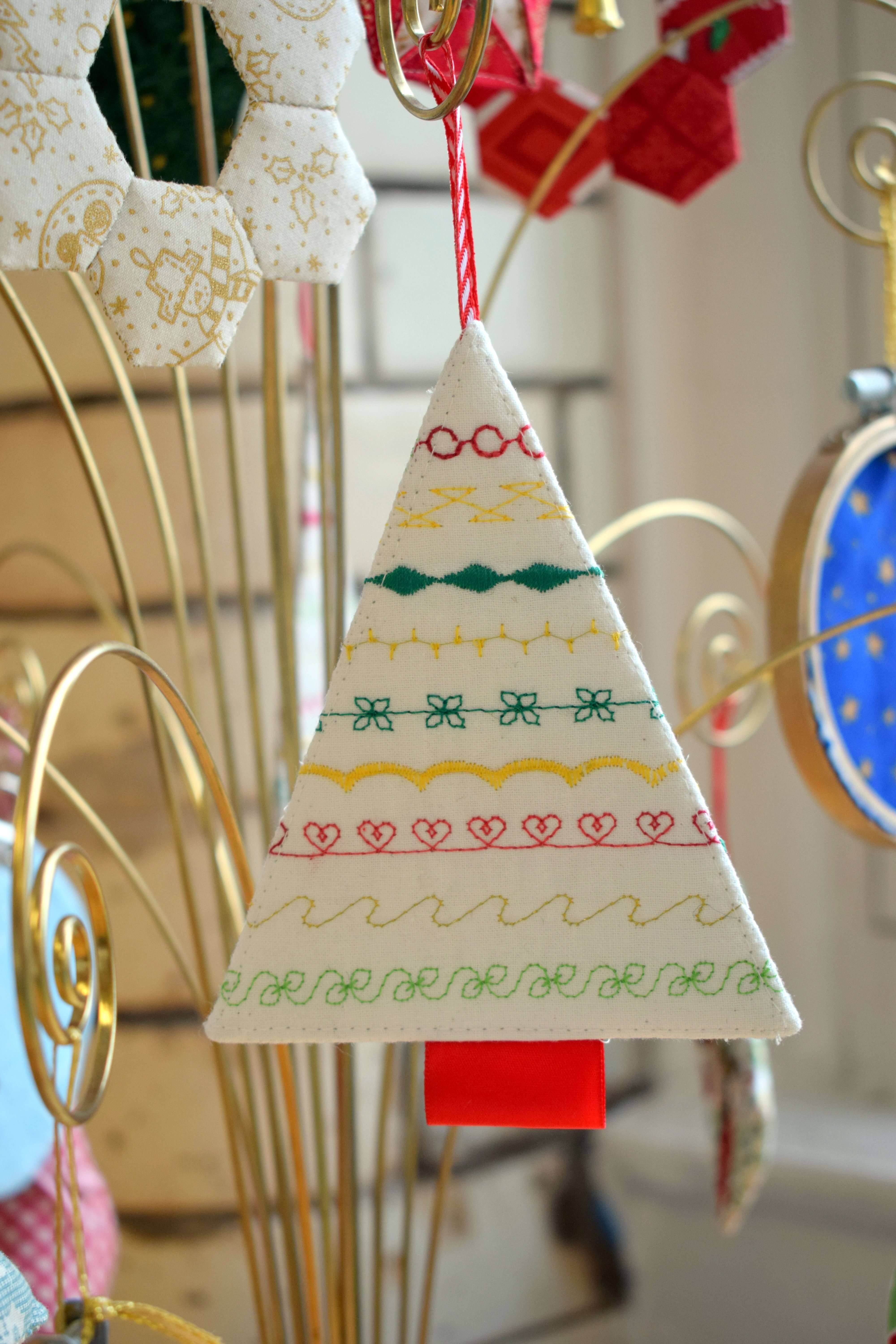 Happy stitching!