Quilters are among the most generous, big-hearted humans I know! Always quick to respond to the needs of others in the ways they know best, quilting!
Recently on my Facebook Group, The Sewing Surgery, a request for sewers to make Syringe Driver Bags came through from Marie Curie Cancer Care, via a group member.
Folks in the group immediately responded, and pictures of syringe driver bags started appearing!  Big pat on the back TSS members!
These bags are in constant need by Marie Curie, so if you would like to make one to send to them, you can get the pattern and details here.
******************************
Another brilliant UK charity supported by quilters is Siblings Together. Each year, we try to make 100 quilts to give to children at summer camps. These kids are separated from their siblings by the care system.  They join up with their siblings at camp and the quilts are given out at the end of the camp, as a comforting reminder of their time together.
In addition to individuals making quilts for ST, there are also several quilting bees supporting ST.  I'm in one of them (Siblings Together Bee 2) and, with the help of my bee mates, I've managed to complete 1 quilt so far.
This is Canvas quilt (named after the Canvas blocks we made). As you can see it's a colourful, scrappy quilt, and at 60" x 72", will make a great big quilty hug for a child at ST.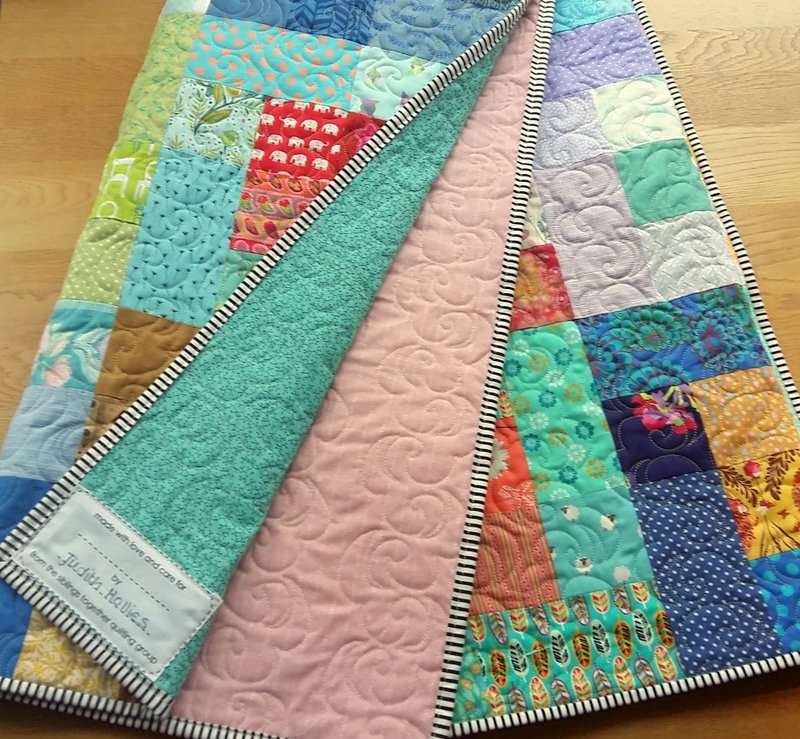 The quilt has been beautifully quilted by a good friend, bound in my trusty black and white stripe fabric and labelled ready to be posted to ST.
My 2nd ST quilt isn't too far away from completion either! A big thank you to my ST bee mates for their contributions to these quilts.
******************************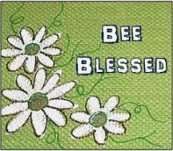 And finally, another charity quilting bee close to my heart is Bee Blessed. A Belfast based group of ladies meet once a month to make quilts for those in need. This group is brilliantly supported by quilting bloggers too!
You can read all about the quilt donations and monthly blocks here. (There's a particularly adorable recipient enjoying her new quilt here!)
Giving a little time and fabric in this way is so rewarding! So if you have been inspired to help any of these worthwhile causes in any way, please let me know and I can point you in the right direction.
Happy giving!