Hello everyone!
Just checking in to tell you about some exciting new workshops coming up this term.
Saturday 8th September: Rope Bowls II
(fully booked - waiting list available)
My first Rope Bowls workshop booked up in double quick time, so I set a 2nd date! (you can read all about the first workshop here.)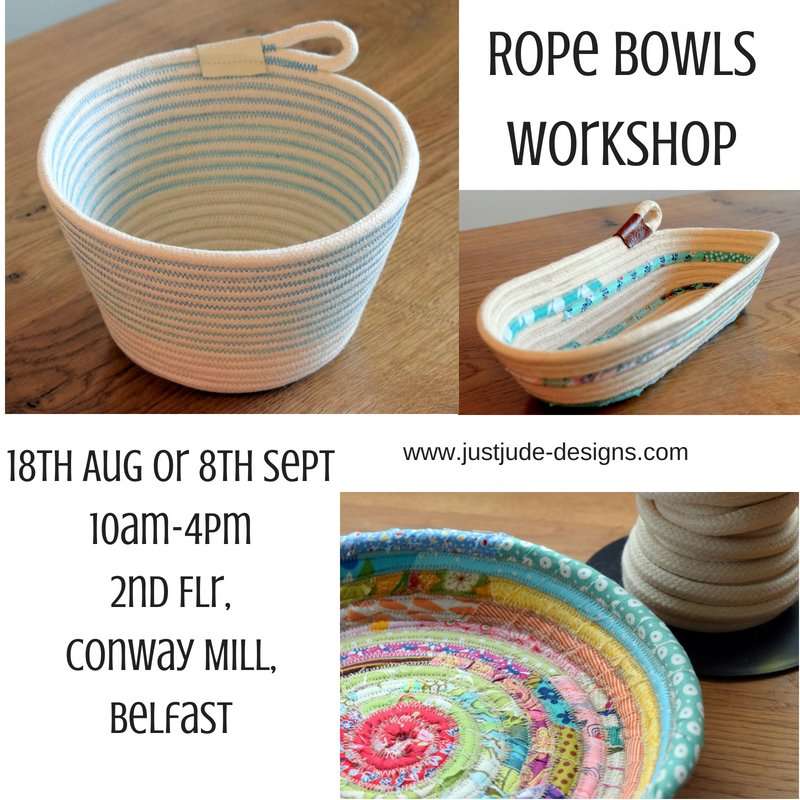 15th September: Free Motion Quilting/Sketching
(fully booked - waiting list available)
Yesterday was the first of 2 FMQ workshops.
My ladies worked hard at 6 different FMQ designs, fillers, small and large samples, and tried their hand at a little sketching too! (I bet they all slept well last night!).
This is my most requested workshop, and as it booked up in 2 days(!!) it was only fair I put on a 2nd date!
Don't worry if you haven't managed to get onto one of these workshops.  I'll be running this one again next year.
13th October: Chenille (Bath Mat or Cushion)
(places available)
In quilting, the term 'Chenille' refers to a texture achieved through sewing and cutting through several layers of fabric. When washed and dried, the raw edges of the cuts 'fluff up' creating a wonderfully tactile texture. This new 'fabric' can then be turned into a wide range of items.
In this workshop you can choose to make a fluffy bath mat, or a snuggly cushion.
17th November: Scandi Christmas Stocking
(places available)
Getting ready for Christmas and Christmas gift-making is always popular among quilters.
My Scandi Christmas Stocking incorporates a little fun applique and it is fully lined, so it will stand the test of time year after year!
I'm now stocking the latest collection of Makower  Red Scandi Christmas prints in my classroom, as well as my usual stocks of Essex Yarn Dyed Linen, and I'm hoping to have kits available for the workshop.
8th December: Gingerbread Men Garland
(places available)
How cute would these decorated felt Gingerbread Men look adorning your Christmas themed fireplace!
This workshop will combined some relaxing hand sewing and embellishing with a little machine work.
A great gift for gingerbread men lovers everywhere!
So there you have it! A round-up of fun ways to spend a Saturday!
If you see anything here you fancy, just drop me an email at justjudedesigns@hotmail.co.uk
Happy sewing!