Firstly, thanks everyone for your kind comments yesterday. It was lovely receiving so many (virtual) hugs!
This past week I've been sewing a crazy amount of hours making this: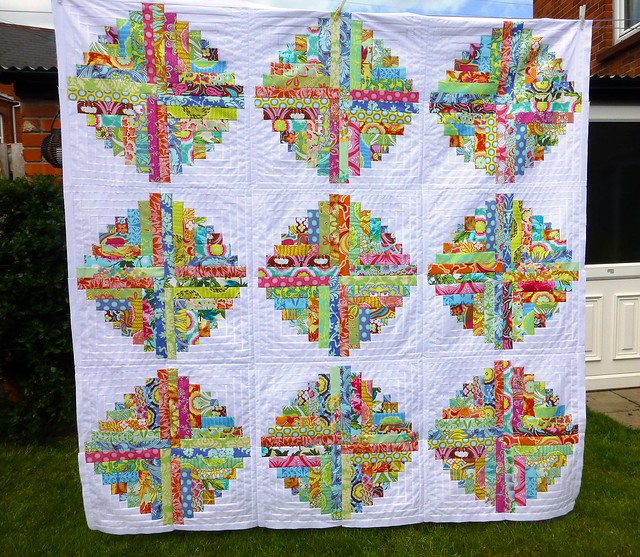 72" x 72"
There are 36 blocks here, all heavily pieced with skinny white strips, and wider Amy Butler Soul Blossom strips, creating this circular pattern. I got through 5 bobbins, and chain pieced it, which meant I sewed the same section 36 times, over and over and over!!
I love log cabin quilts, especially modern designs like this one. This will eventually be for my daughter when she turns 18 later this year (don't even ask me how that happened!!!).
But I wanted to use it as a test case to try out a new pattern idea for one of my classes in the Autumn. Some modifications and fabric quantifying are needed, but I think it is a definite contender.
I got through a whole jelly roll and several fqs when I ran out 90% of the way through. But my trusty fabric addict buddy came to my rescue with more Soul Blossoms jelly roll strips!
To finish off this baby, I'm thinking a skinny white border, with this on the back ...
...and it might just make it's way to my quilty friend with long arms (!!) to get quilted. It will be a special occasion after all!
Oh, and I got these today, for hanging in there with hubby for 21 years!