This week in The Kindred Spirits QAL we have been making Grandmother's Cross blocks: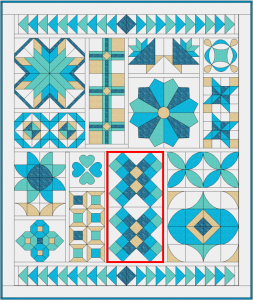 These are 14" finished blocks and are a variation on the Granny Square quilt block.  You can read about the lovely meaning behind the Granny Square here.
There are many variations of Granny Square quilts (you can see my French General version here) but I was inspired this week to go miniature!
I've had a little stash of 1.5" Denyse Schmidt squares languishing in a drawer for several years, so I thought I'd see how they made up into a mini Granny Square!
When I had one done I thought it was the perfect coaster size!  So I made another 3! (And I still have some little squares left!). I do love small scale piecing!
These cuties finish up at 4.75" square, the perfect size for your favourite coffee cup!
And I've written up a tutorial on how to make these Granny Square Coasters, which you can download here.
This was a great project for using up favourite small scraps and also leftover binding strips and offcuts of wadding!
And another little gift idea perhaps!!
Happy sewing!