Happy Thursday everyone!
It's a happy day here at the Hollies Household because not only is the sun shining, we have just had gas installed in our new home! This means we now have long awaited hot water, cooking facilities and a little heat on chilly evenings!  #livinglikekings
The quilt I'd like to show you today is long overdue its reveal!
My middle daughter turned 18 last February, and I got her birthday quilt started at Brit Bee Retreat.
My daughter loves travel/world themes as well as old style items, images and graphics.  Also, she isn't into pink or girly colours so much, so I knew I had to get the fabrics and colours just right.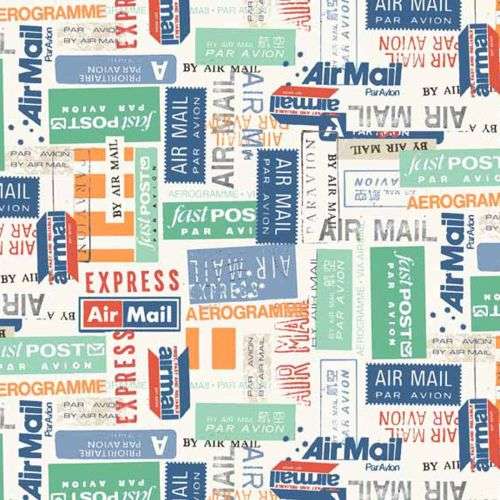 I was browsing travel themed fabrics online and came across this Makower fabric called 'Airmail Travel Stamp, Special Delivery!'  It was my perfect starting point and this became my 'headline' print.  I used the colours in this print to guide me through the rest of my stash and scrap boxes.
I didn't want to chop the Airmail print up too small, so designed an 'on point' block where large sections of the headline print would appear in the secondary pattern, with scrappy pieced dividers.  A little white on white to separate the busyness and it all came together beautifully.
Keeping the scrappy prints to softer tones and small scale prints helped create an overall calm feel to the quilt.  My daughter's bedroom is mostly neutral creams and greys so I didn't want the overall look of the quilt to be too bright.
I managed to get the quilt almost completed by the end of February, just a few weeks late of the birth date.  And then a request came in from a magazine editor requesting a quilt for a summer edition!
This was the only quilt I had available in the tight timescale, so off it went to England, with an apology to my daughter for yet another delay on her quilt (she was most forgiving)!
The quilt was published in the August issue of Pretty Patches (still in the shops now) and it was returned to me yesterday!
I could finally present it to my girl, who I'm pleased to say, loves it!
She travels to Norway in September for 6 months and only wishes she had room in her luggage to take it with her (she might well be needing it over there!).
So that is the story behind 'Around the World' Birthday Quilt.  Always a special make when it's for a loved one, and only 6 months late!!
Happy travels!