I realise Mother's Day is a while ago now, but I haven't told you about a wee make I made my mum!

I have made mum pot holders before, and was pleased to see them put to good use in her kitchen recently.
But continuous use means they get a little 'worse for wear' over time. So I thought a replacement was in order.
I mainly store my scraps in colour order, in a tall drawer stacker! But when I have leftovers from a particular collection, I will keep them together.
I had one such little bag of small 2″ squares leftover from a quilt project a few years ago. I can't remember which fabric collection these are from, but I had just enough to create 9″ square pot holder.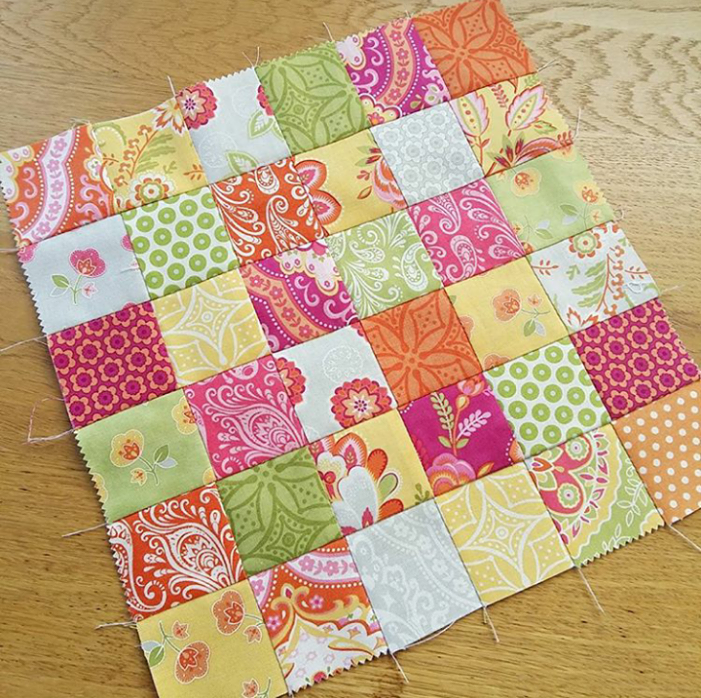 Instead of using Insul Bright Heat Resistant wadding, I tried an extra thick compressed wadding (sold in the shop where I teach as 'oven glove wadding'!).
I increased the stitch length and was able to quilt through it no problem.  I love the firmness and texture from the thicker wadding.
Curving the corners and adding co-ordinating bias binding & a loop finished this quick little gift.  It only took an afternoon!
I love how this pot holder has turned out!  Can you believe I don't have a single one in my own kitchen!  I really must make myself a few, especially as they don't take long, and let's face it, I have oodles of scraps to choose from!
Linking up this hot pot holder with the Scraptastic Tuesday queens, Nicky and Leanne!
Happy sewing!