My youngest daughter requested a handmade gift for her friend's 18th birthday.
So last bank holiday Monday, I had a happy afternoon 'playing' in my sewing room with my first love, denim!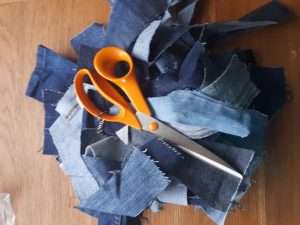 Using only my smallest denim pieces, I used the 'quilt as you go' method to quilt the pieces directly onto some Pellon flex foam, leaving sections here and there for a little Boro style stitching!
I'm not a great hand stitcher, but I'm loving the current boro/kantha/sashiko stitching trend that is influencing the quilting community at the moment.
Originating from the Japanese ethos of 'visible mending' these stitches are meant to be seen, functional, and not necessarily perfect! Yes!  My kind of hand stitching.
I always love working with denim, and completely fell in love with this little pouch as I discovered interesting seams, shades and textures among my scraps.
It was a sad and sweet moment handing over this pouch! Needless to say I didn't even make a dent in my pile of scraps!
My appetite for making more 'quilt as you go' boro style denim projects is unabated, so I've decided to design a bag in the same style! #lovemyjob
Watch this space!
Happy upcycling!