For the past 6 weeks some very talented ladies in my classes have been beavering away on my Denim Hexie Bag Pattern.
This pattern combines techniques such as English Paper Piecing (EPP Hexies), eyelet holes, zippered pocket, handbag construction as well as some serious denim upcycling!
At times it looked like a missile had gone off in a jeans factory in my classroom, as scissors and blades feverishly amputated legs, pockets and loops! While denim is one of my favourite textiles to work with, it doesn't half shed!
But oh boy, the results of this serious crafting were so worth it!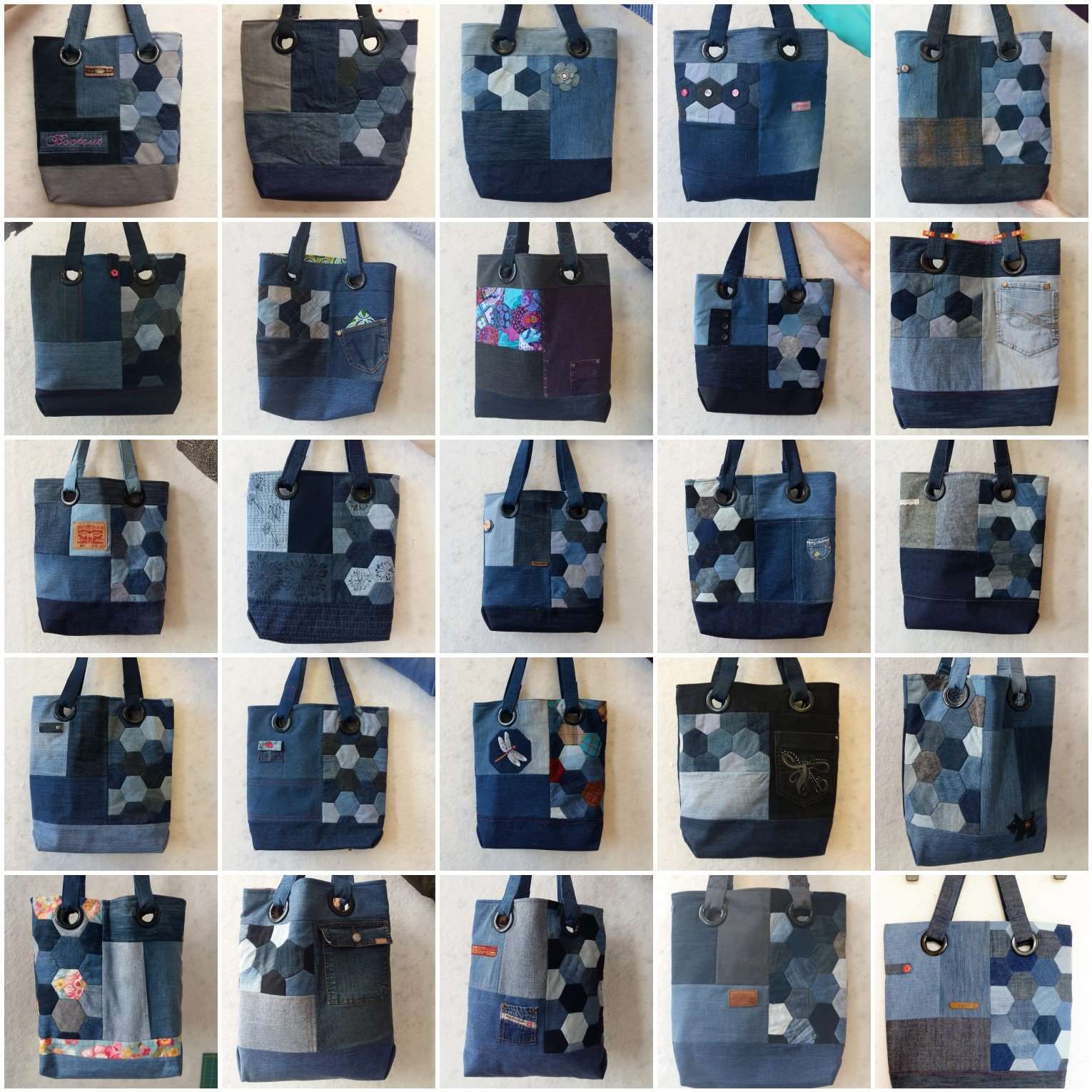 Not all the bags being made are represented here, a few are still being finished off.
But aren't they brilliant!  Sturdy, stylish practical bags that I know will get lots of use!
And I also know that the bags still being finished are equally as fabulous!
I haven't been able to capture all the individual details in the bags here, but trust me when I tell you that each bag has it's own unique characteristics.
Details like repurposed loops, tabs and pockets from the jeans, as well as complimentary fabrics like cotton and tweed, buttons, badges and even embroidery and printing.
A huge 'well done' to all my wonderful 'Bag Ladies'!
If you would like to have some re-purposing fun of your own, you can get my Denim Hexie Bag Pattern here.
I also have 3 part-kits available in my shop, which include the pattern, pre-cut hexie papers, various coloured denim squares (for the hexie panels) , 1 metre of heavy weight sew-in vilene and 4 eyelet rings.
But be quick!  When they're gone, they're gone!
Happy recycling!