(Online booking available here)
All abilities welcome!
Join our fun and friendly weekly classes, where you can bring along your own projects, or take part in an optional class project.  Or why not take some time out at one of our Saturday workshops.
With ample seating for 12 people, 5 cutting tables, 4 irons & boards, a project display table, tea/coffee making station and a small shop, you will find working here comfortable and relaxing.
*Covid19 changes: 8 independent & socially distanced work stations (includes cutting mat, iron and board). Bring your own rotary cutter and ruler, drinks/snacks. Please wipe down workstation before leaving.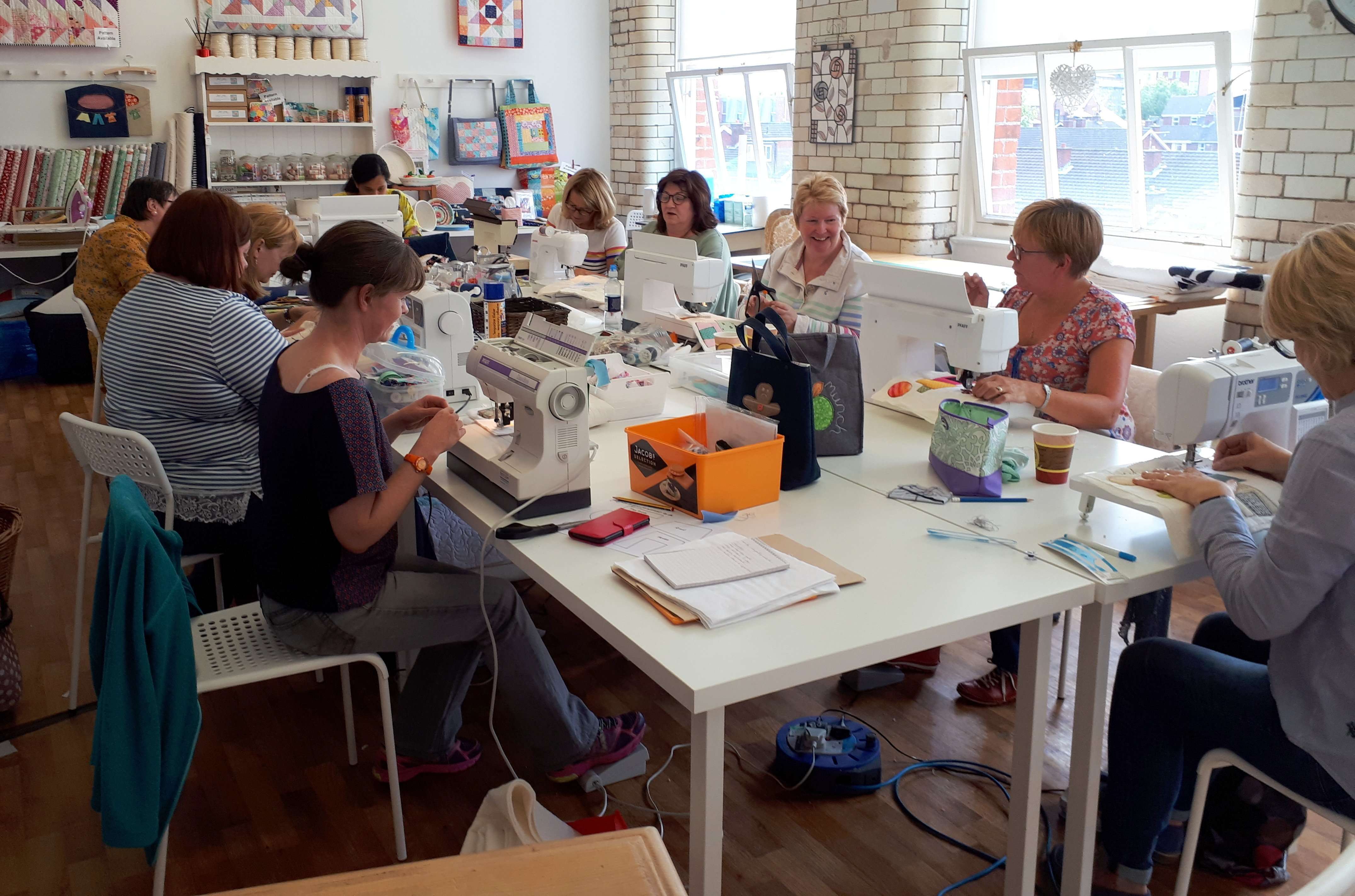 Enjoy regular demonstrations of patchwork and quilting techniques as well as ongoing support and advice, whatever you are working on.  We have a 'basting bay' (for spray basting your quilts and projects) and a large design board for laying out your quilt blocks.
A selection of free patterns, tutorials and a small lending library are at your disposal should you need further inspiration!
Also available are a wide range of Just Jude Design patterns, as well as fabric, wadding, interfacing, bondaweb, 505 basting spray, Aurifil thread, and haberdashery.
What to Bring:
bring your own machine & sewing kit (specific project materials may be available to purchase in class)
a limited number of basic machines are available for hire (£1 pw & pre-booking required)

not available during Covid19 restrictions

cutting mats, rotary cutters, rulers & irons are provided

please bring your own ruler and cutter

free tea & coffee making facilities available (please bring your own snacks)

not available during Covid19 restrictions
A little more info:
One term can be made up of 2 smaller blocks, separated by a half term, holiday break e.g. Easter
Classes booked per term = £9 per week (payable in full at start of term)
Classes booked per block = £10 per week (payable in full at start of block)
Places secured with a deposit. Deposits are non-refundable
Existing class members get first refusal of places for the following term and Saturday workshops
max 12 people per class/workshop

8 people during Covid19 restrictions

classes are mixed abilities and beginners are welcome 
the classroom is open 15 minutes before class start time.  If you arrive early, please wait in the coffee shop or in the covered courtyard
regular updates about the classes & projects are available at www.justjude-designs.com and on Just Jude Designs Facebook Page