A big thank you to everyone for entering my 'Katha on Tweed' giveaway last week.
I announced the winner on Monday via Instagram, and was pleased to deliver the prize to local winner Jaele @a_million_paper_stars!
But don't worry if you missed out this time.  I'll be doing another giveaway at the end of the year to celebrate my 9 year blogiversary!  Stay tuned!
**********************************************************
So what have we been up to this week in class?  Well, as our class project this term has been the Folded Double Wreath, I thought I would do a quick demo on another type of wreath – the simple plaited wreath!
This wreath uses much less fabric and is quicker to make! Win, win!
To make this wreath you will need:
3 x 3″ strips cut width of fabric
1 x 5″ strip cut width of fabric (bow)
Toy stuffing
Large Safety Pin
Wooden skewer or knitting needle
Co-ordinating thread
Method:  Use 1/4″ seam allowance
1  Fold each 3″ strip in half lengthways, right sides together, and sew down the long side.  Leave the short ends open.
2  Use a large safety pin to turn the tubes right sides out. Do not press.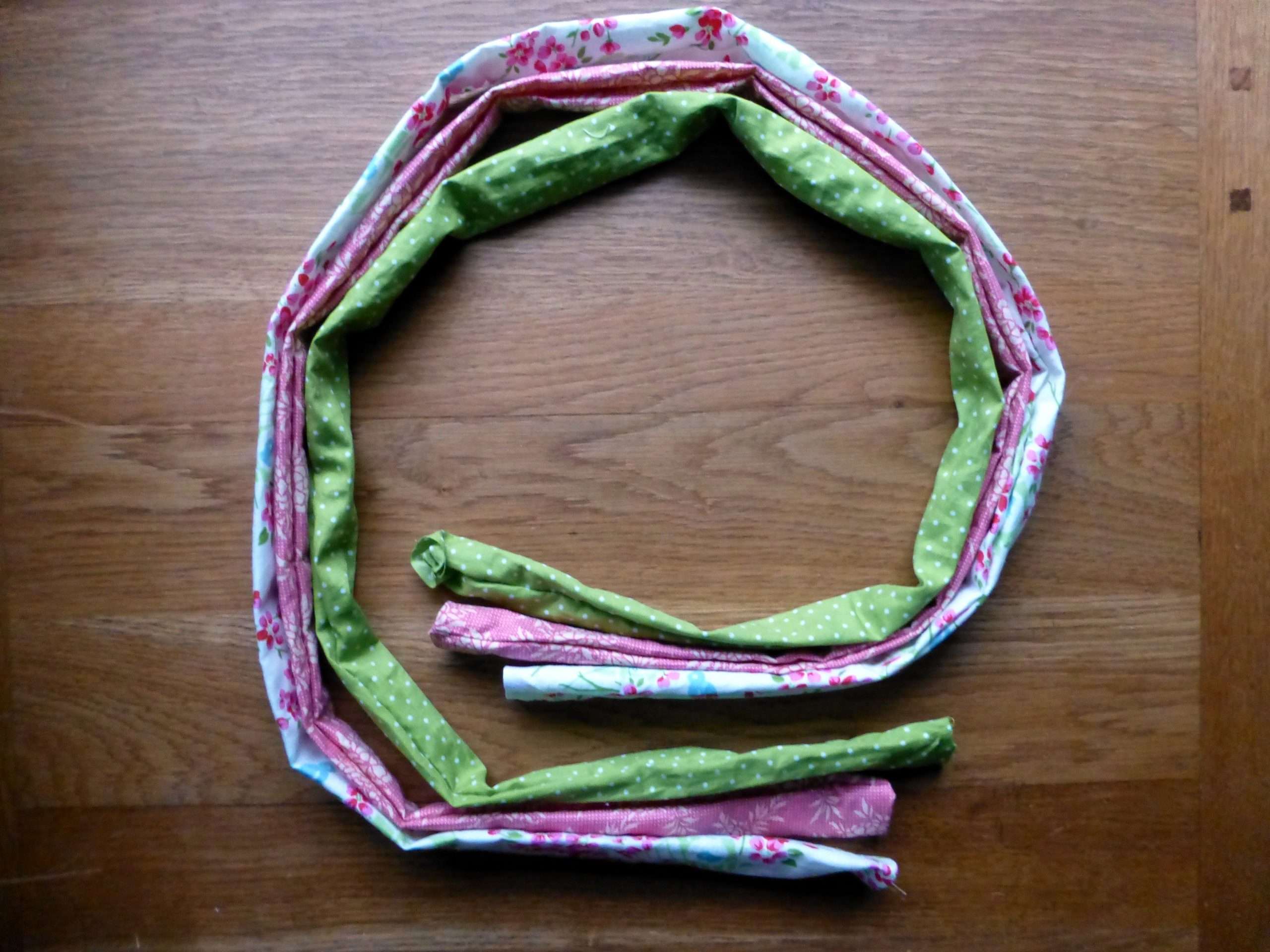 3  Stuff the tubes from each open end towards the middle.  I used a wooden skewer for this. Make sure the tubes aren't so well stuffed that they can't be plaited.
4  At one end of each tube, tuck under the raw edges and pin and sew together across the top (I hand sewed a whip stitch here). Make sure the seams are all facing the back of the tubes.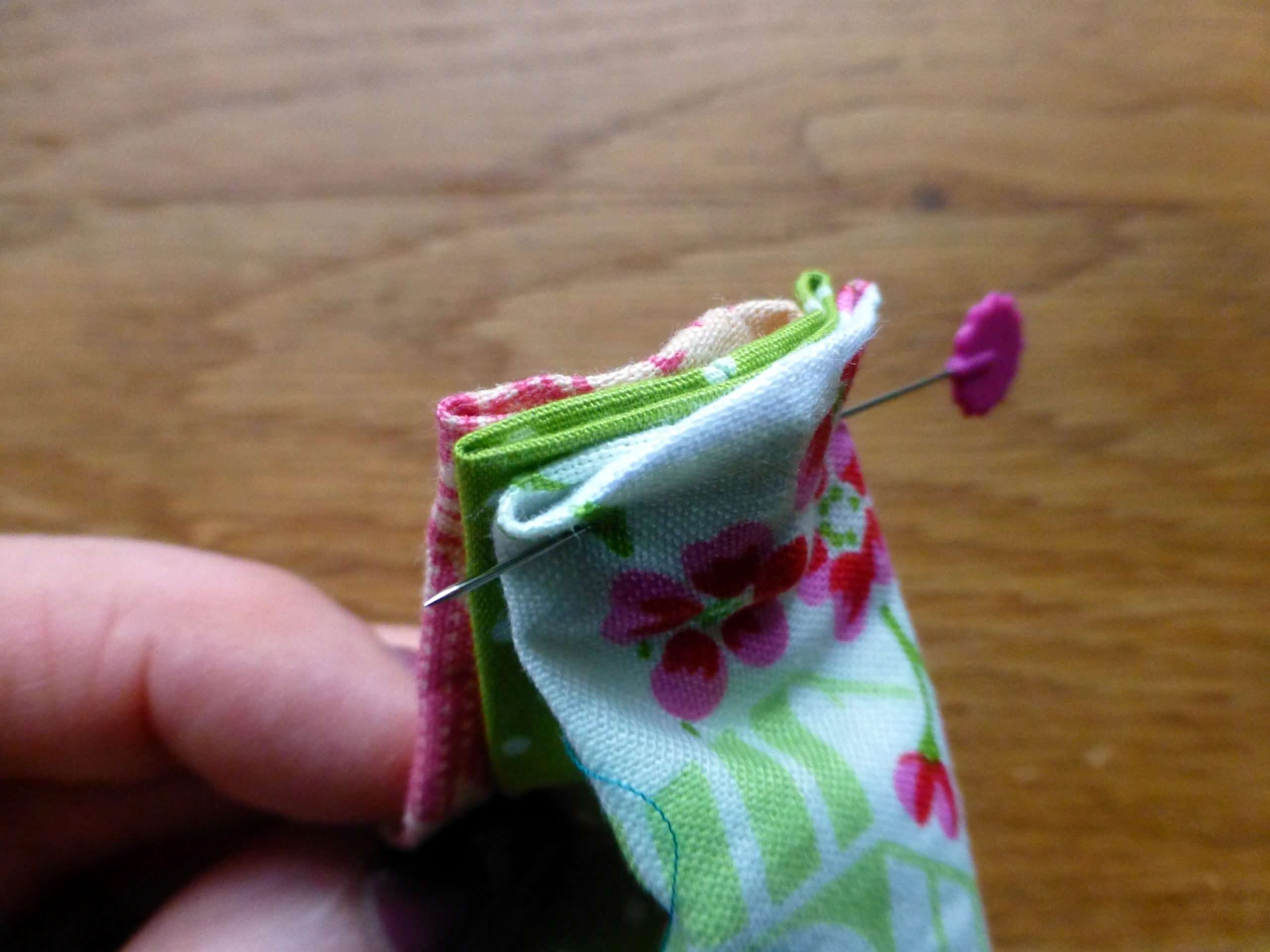 5  Plait the wreath tightly ensuring no gaps between the tubes.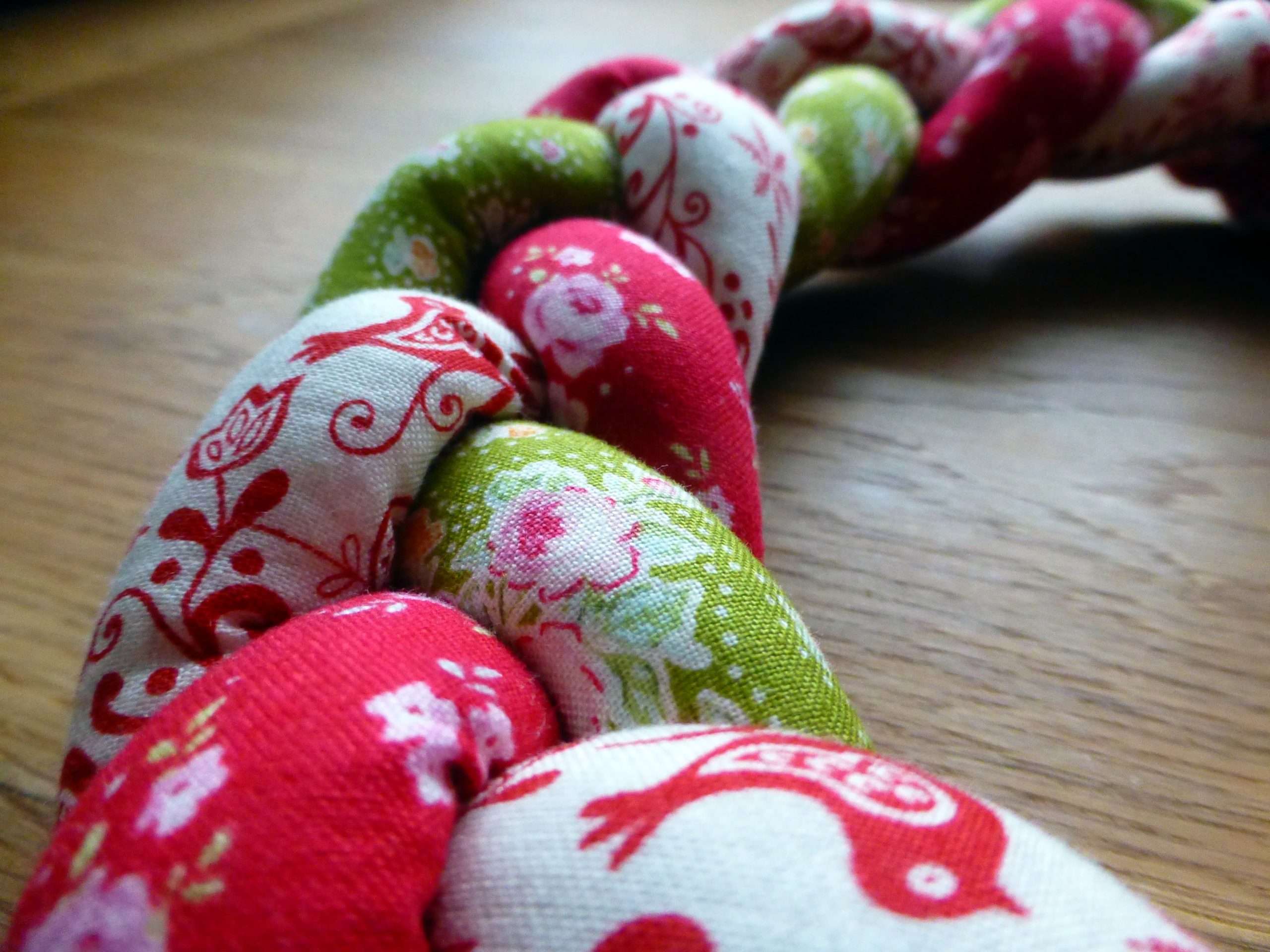 6  When you get to the end, trim the tubes to the same length, tuck under the raw edges and whip stitch them together as with the other end.
7  Neatly join both ends of the wreath, trying to continue the plaiting order.
8  To make the bow, fold the strip in half lengthways, right sides together, and sew down the long side, leaving a 3″ gap half way down.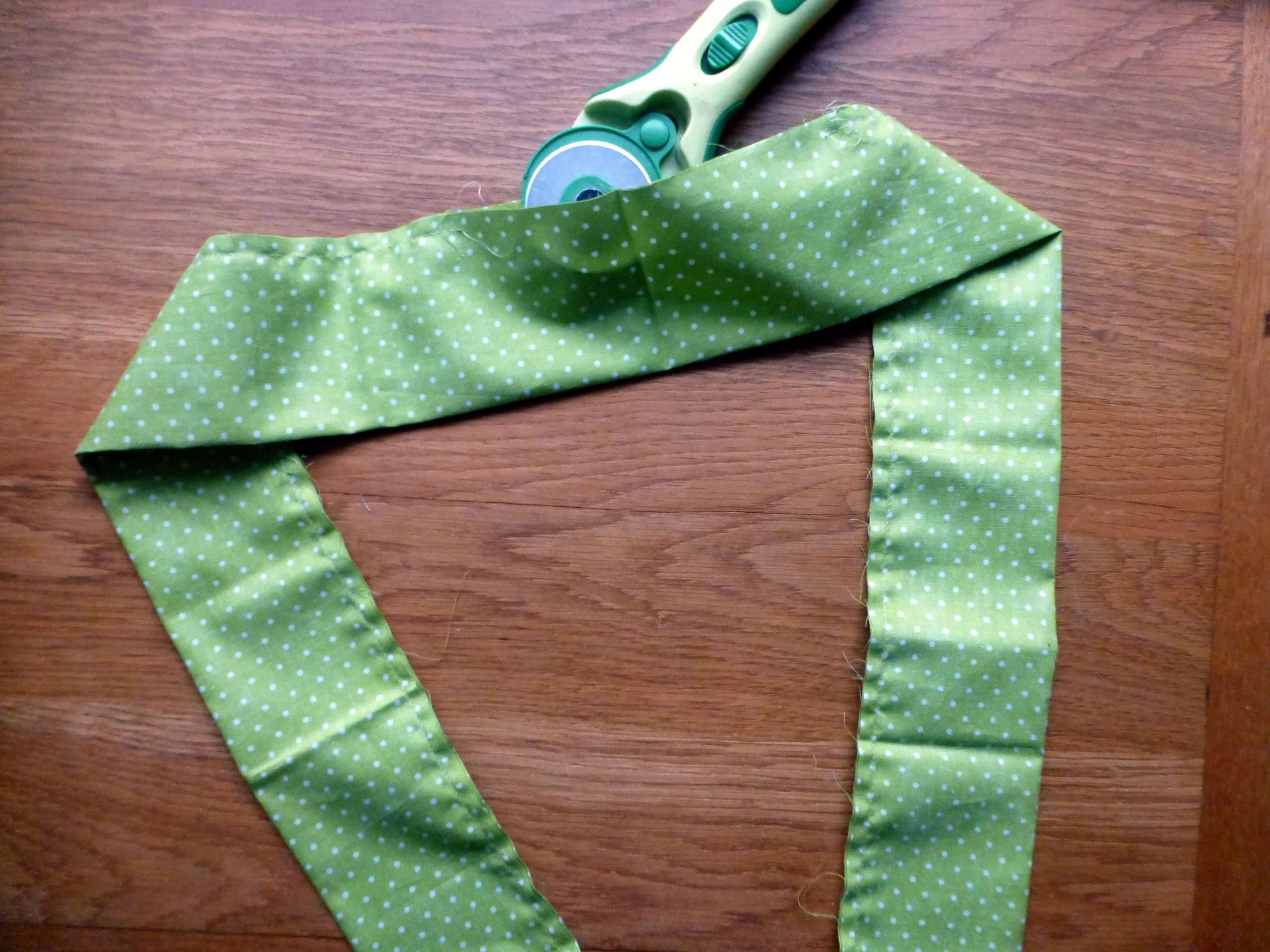 9  Angle the ends of the bow by drawing a diagonal line a few inches in from one corner and down to the adjacent corner. Sew along this line.  Cut away the excess leaving 1/4″ seam allowance. Make sure the angled ends of the bow are pointing in opposite directions.
10  Turn the bow right sides out, push the points out with the skewer or knitting needle and press, making sure to tuck in the raw edges of the gap.
11  Stitch the gap closed and tie the bow to the wreath, covering the join.
Tip:  Tying the perfect bow – after the first tie, turn the wreath upside down and complete the bow.  The pointed ends of the bow will hang down towards the bottom of the wreath!
Magic!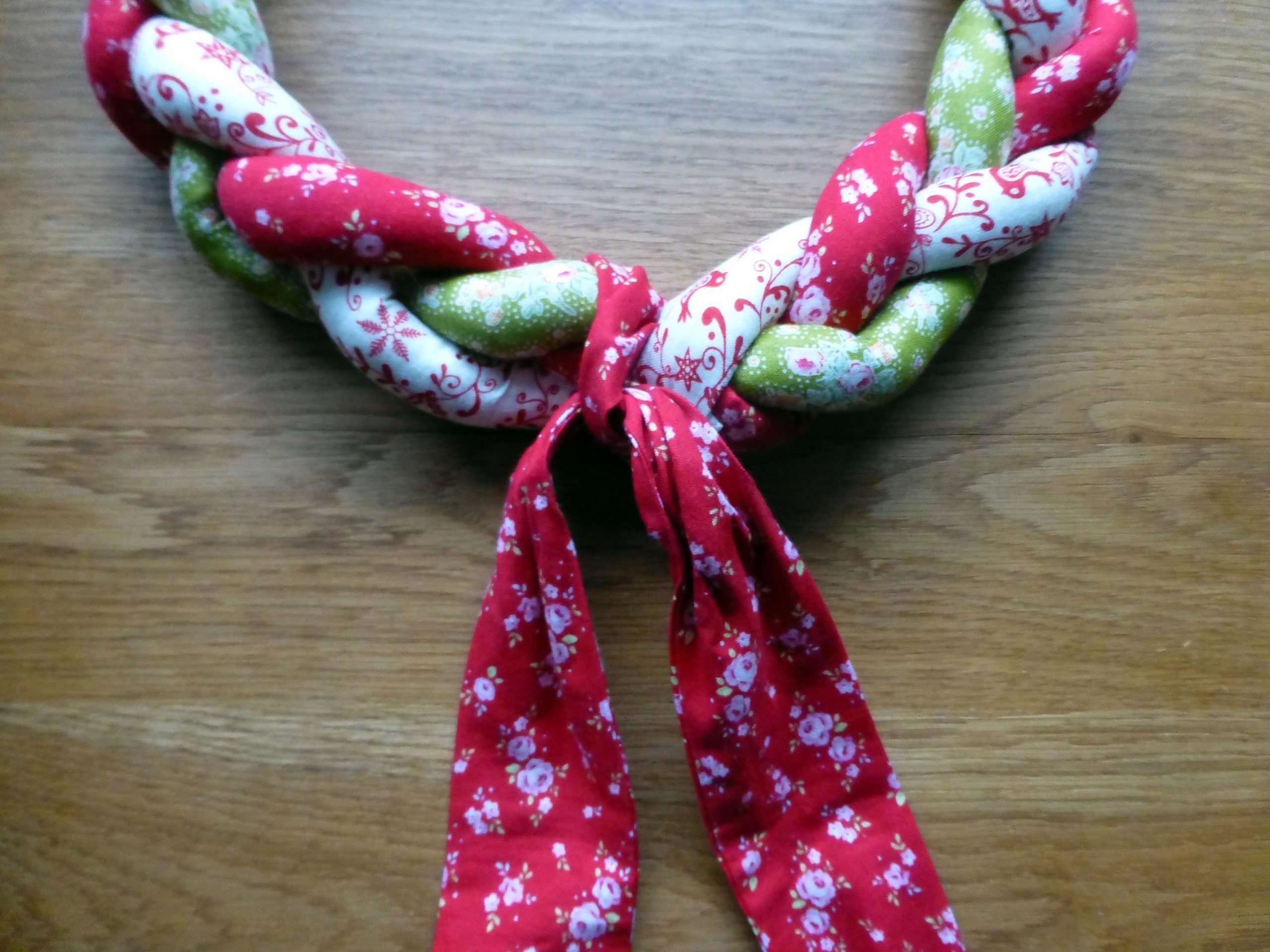 And you're done!
A pretty wreath ready to hang up or gift!
Happy plaiting!