We have one week left of our current block of classes before the half term break.
Folks have been beavering away on their Soft Toys and Sock Monkeys – can't wait to show you our amazing menagerie!
But looking ahead to our final block of classes of 2019, our optional class project will help to sharpen our focus on Christmas preparations!!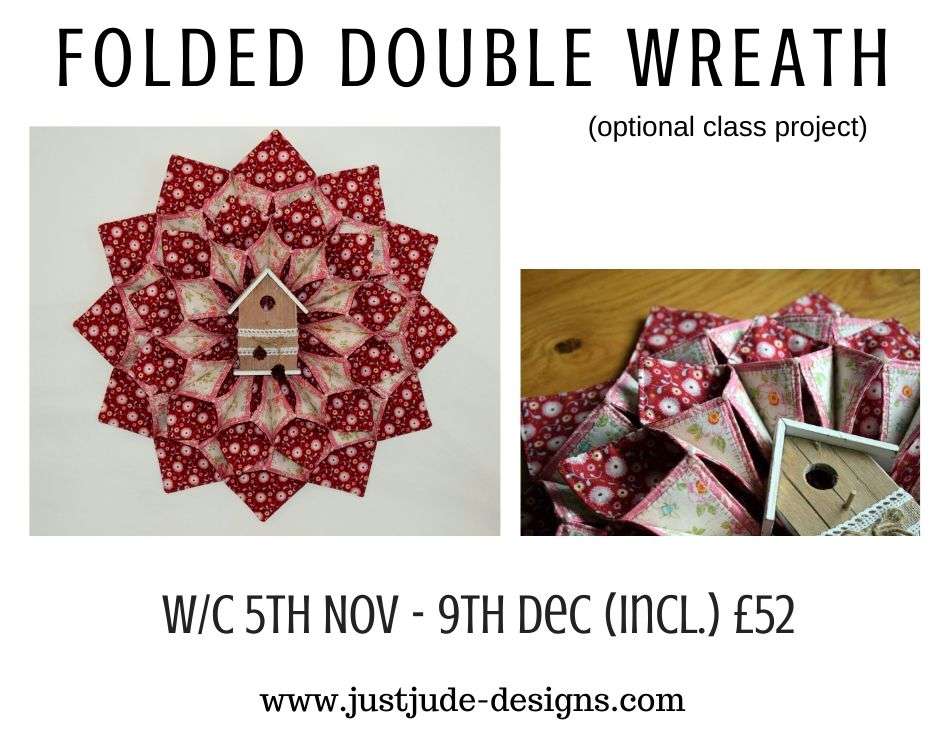 The original pattern for the Fold 'n Stitch Wreath is by Poorhouse Quilt Designs, available here.
But then I saw this amazing triple version of the wreath and thought I'd have a go at making my own interpretation of it.
I have used 3 fabrics in my double wreath.  I like the versions which have a 3rd fabric peeping out at the edges of the folds.  I'm a bit fussy when it comes to Christmas fabrics so I chose 2 Tilda fabrics (a Christmas red and a non-Christmas pink) and a non-Christmas cream by Lewis & Irene.
While the construction of this wreath may look complicated, let me assure you that it isn't (I love it when patchwork deceptively portrays complexity!).
Each row is made the same way. The repetitve nature of making square 'coasters' and cleverly joining them into a circle means you can stop at a single wreath (as a candle mat or door-hanging) or keep going and make additional rounds.
I stopped at 2 rounds and decorated the centre with a Scandi birdhouse.  But at the class you will have the option of making a single, double or triple wreath.
And if you like your bling, you'll love decorating your wreath!  Metallic threads, beads, bells and baubles are all up for grabs!  Let your Christmas creativity go wild!
And of course, if you're not a Christmas fan, why not make a beautiful autumnal or winter wreath!
Lots of options and variations are open to you with this optional class project.
The new block kicks of w/c 5th November and runs for 6 weeks. Booking available here.
Happy sewing!