Hi there,
Welcome to part 3 of my Spring into Summer '19 series, looking at the items on display in our classroom (part 1 available here; part 2 available here).
Part 3 continues the Lori Holt theme, this time looking at her book 'Quilty Fun'.
7 Lori Holt's Quilty Fun Book: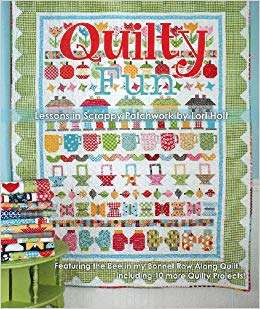 I adore 'row by row' quilts and Lori's quilt design is full of cute and adaptable blocks.  Here is my version of her quilt, hanging up in class.
I've used lots of scraps in this quilt, but for the bigger pieces I used Lori's Bee Basics range of fabrics, which co-ordinate with all her other fabric collections.
There's so much to look at in this quilt, and as always the book includes many more ideas on how to use the motifs in different ways for a whole range of projects.
All bar 1 of the books have now sold in class, which I'll be listing soon in my shop (watch this space!).
8 Quilty Fun Mugs (Tea Cups) Cushion
One of the additional projects in the book is a Mugs (Tea Cups) Cushion (I omitted the border included in the pattern).  Isn't this fun! The piecing is really easy and I had a ball picking the colours I wanted all my mugs to be!
I went for my favourite zippered cushion back to finish off this 20″ cushion.
9 Quilty Fun Leaf Mat:
This is a smaller version of a table topper project in Quilty Fun.  The leaves are the same size as those in the original quilt, and I thought this would make a pretty addition to my kitchen table.
And finally, a Lori Holt inspired cushion, which is on our display shelf:
Crossroads Cushion:
I made this cushion from Lori's free 'Scrappy Cross Roads Block' tutorial, available here.
Using a small pack of 'Something Blue' by Makower, I followed Lori's tutorial to make the block, and then brought it up to a 20″ cushion size with borders.
I had a lot of fun quilting this one!
The back was pieced with leftovers and my trademark 'feature zipper' closure.
And that brings part 3 of my Spring into Summer '19 series to a close.
Just 3 more quilts and some holiday style pouches to show you in our final post.
Happy sewing!