Welcome back to my Log Cabin Blocks series (part 1 available here).
In part 1 we looked at a range of Log Cabin blocks, from Traditional to Wonky!
In part 2, we are going to look at the 2nd category in this family of blocks.
(All sample blocks are made using fabrics from 'Handmade' by Makower)
Part 2: Courthouse Steps
1.  Traditional:
Similar to the traditional Log Cabin Block, 'steps' are added in rounds to the centre square, this time attaching to two opposite edges first before adding steps to the remaining 2 edges.  The 'steps' are the same width.
Here is one of my traditional Courthouse Steps Quilts, this time starting with a background square (I've marked the block to make it easier for you to identify).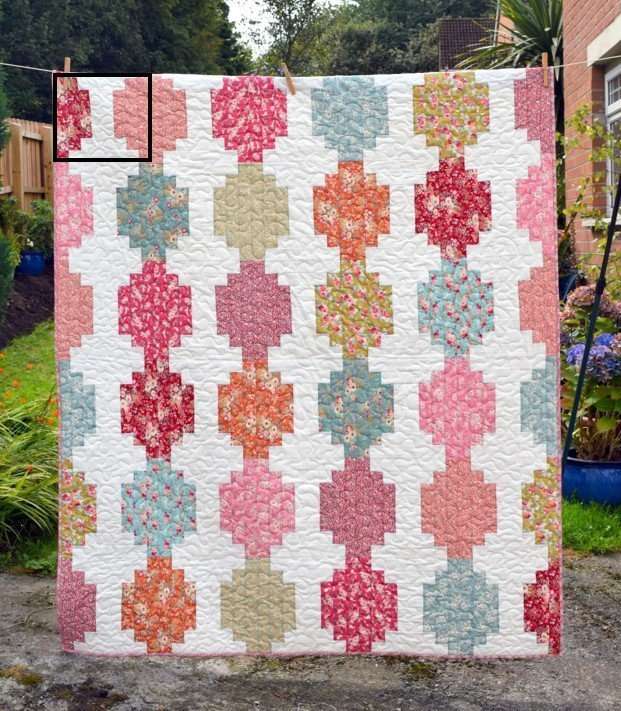 I love how the secondary pattern from the Courthouse Steps blocks dominates in this design!
You can find a traditional Courthouse Steps block tutorial here.
2. Colour Rounds:
As with the Log Cabin Colour Rounds variation, the same fabric is used in each round, but sticking with the same traditional Courthouse Steps construction.
3. Cornerstones:
By adding squares (cornerstones) to the ends of the 'steps' you will add an Irish Chain secondary pattern to your quilt.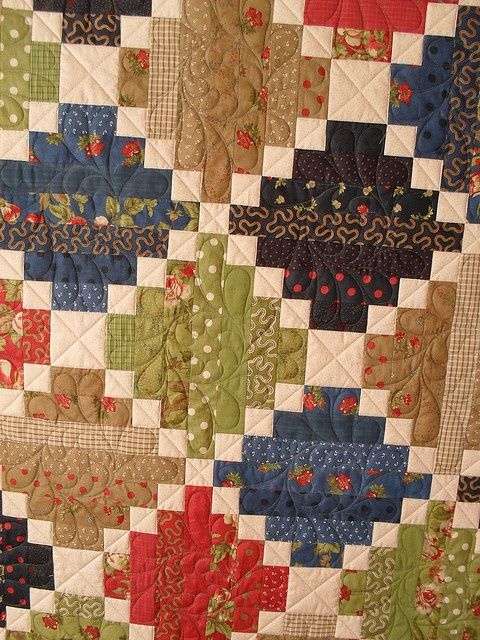 4. Rectangle
You can change the starting shape of a Courthouse Steps Block to any 4 sided shape (like Log Cabin) but not a triangle.
As I mentioned in my last post, there are lots more great Courthouse steps variations available.  Like this 'sliced' Courthouse Steps:
In this version, you make two blocks in two fabrics, one positive, one negative.
Slice them in half diagonally, switch them over and sew back together!
Now the point of doing this lies in the secondary patterns you can achieve from Sliced Courthouse Steps.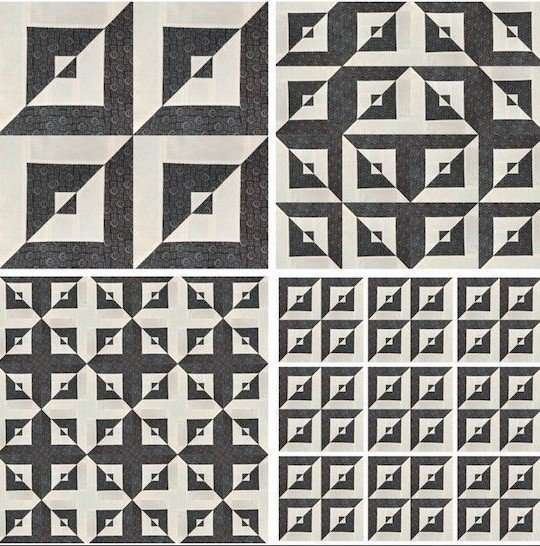 Aren't they cool!
A video tutorial of Sliced Courthouse Steps is available here.
You can find more inspiring Courthouse Steps examples on my Pinterest board here.
And I'll leave you with a picture of a Courthouse Steps block I'm currently working on, using vintage sheets.
I hope you'll come back soon for part 3 of our Log Cabin Family series.
Happy sewing!