Happy Wednesday to you all!
Question: Do you have a favourite fabric designer?
Most quilters who are engaged with an online community of sewers have designers or fabric lines that they just seem to fall in love with.
Perhaps it's the preferred colour palette, story telling patterns, geometric patterns or ditsy themes that become as familiar in each designer's collection as a favoured jumper!
If you are a regular visitor to my blog, you will know that fabrics with a ditsy or vintage vibe rank highly on my list of favourite fabrics.
Among these are Fig Tree Quilts and their 'fresh vintage style'.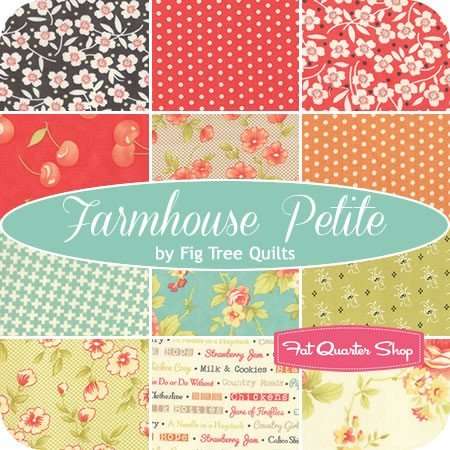 Last year I purchased a fat quarter bundle of Farmhouse Petite from Fat Quarter Shop (USA) and designed a beginner friendly 'Spots and Squares' quilt for the June issue of Popular Patchwork magazine.
The observant among you will notice that I didn't include 2 of the prints from the original bundle, and in fact purchased a couple more Farmhouse prints from Pretty Fabrics and Trims (UK).
So for this pattern, you need 13 fat quarters in total and yardage of Kona Snow for the background.
Simple piecing and gentle applique bring this single bed quilt together in no time at all.
I happened to have the perfect fabric for the back (Momo Freebird) and a good friend kindly quilted it for me on her long-arm frame.
So that's the last of my June issue magazine makes to show you.
Next week the July issues will be released!  Exciting!
Happy sewing!