Hello everyone, we are well into Spring here, and the April issues of quilting magazines are hitting the shops!
In keeping with the Spring theme, I designed a birdhouse wallhanging for British Patchwork & Quilting (April issue).
One of the things I love about Spring is the sound of chirping birds in my garden. I had this cute birdhouse fabric in my stash, (Sugar Hill 'Birdy in Pink' by Tanya Whelan) and I drew inspiration from there.  Can you see little birdhouses in the fabric?  That got me thinking about the little birdhouses in my Woodland Friends quilt.
So a few template alterations later, and I had the basis of a spring-time wallhanging.
Before fusing any of the shapes to the Essex linen background, I quilted the background in a grid pattern, with calico behind the wadding. (The finished wallhanging is double backed, which means after all the other applique is complete, a pretty back of more cute 'Sugar Hill' fabric is attached.)
Satin stitch applique is one of my favourite ways to applique, and luckily I had a fat quarter of fabric with love birds printed on it.  I simply cut these out, bondawebbed them to the birdhouses and stitched round them.
The lettering required a little more thought.  I enlarged a cursive font of the word 'sweet', transferred it to fabric and got it satin stitched in place. I knew I wanted a contrast in the lettering of 'home' so I drew the words on with a water soluble pen and free motion sketched over them.
I'm really digging curvy corners at the moment, and shaping the top corners on this wallhanging removed some excess negative space which better balanced out the proportions of the design.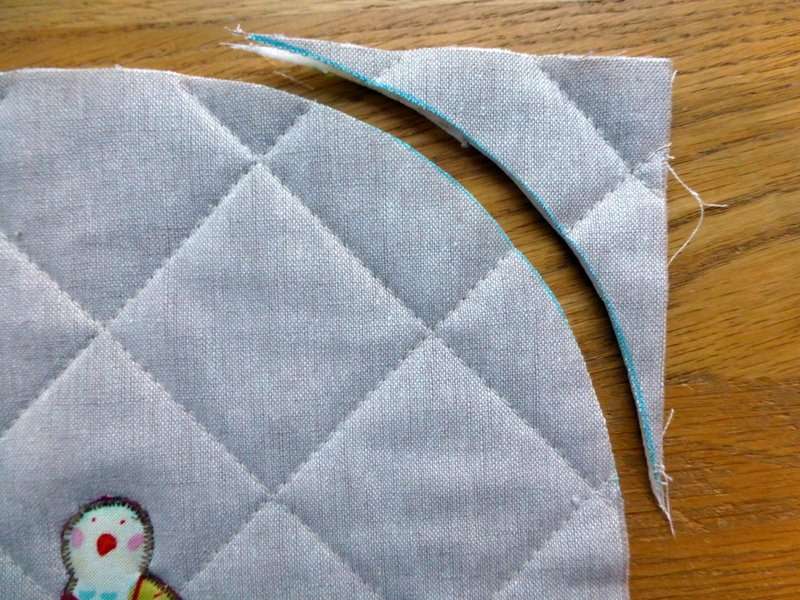 Some standard quilt binding and a few hanging tabs later and voila!  A Birdhouse wallhanging to welcome Spring into your home!
The wallhanging measures 19.75″ x 16.5″ and it made front cover of British Patchwork & Quilting magazine.  Woohoo!
Happy chirping!